Buddy Williams was one of the great pioneers of Australian country music. Here, his daughter Karen talks lovingly about her Dad and lets us see some favourite pictures from her family album.
When Max Ellis contacted me and asked me to write some "Buddy input" for this website, I was both pleased and a little overwhelmed!
Of course I wanted to contribute, but I also wondered where to begin.
There are various books and web sites that provide statistics about Buddy's career, and depending on who you talk to, you will get varying opinions of the man. I can only write about what I know and learned growing up with him.
I met him in 1957, but I didn't really take much notice of him until about 1962.
I remember him driving from one country town to another with Grace and various people who either sang, danced, juggled, played all sorts of musical instruments, or put a mouthpiece in, and got hauled up to the ceiling… you guessed it – by mouth!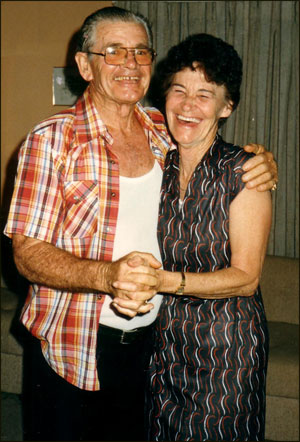 Rodeo days were over and it was time to present some "spectacular" act before the "star" of the show came out to woo the audience!
During this time I remember the halls being packed with people and besides all the other exciting attractions, Buddy would do a sharp shooting act in the aisle of whatever hall he happened to be in (illegal today of course).
More than once I heard Grace mention that he'd parted her hair that night when he was shooting out a candle or a balloon above her head while aiming through his legs, he'd grin and say: "I missed you didn't I" !
I don't think I've ever seen two people love life on the road more than Buddy and Grace Williams, it didn't seem to matter how many breakdowns there were, how many times the butter was dripping through the rungs in the fridge and every egg was smashed… when everything was fixed and cleaned… they laughed!
Of course nothing was more important than making it to the next town for the show, even if you limped into town with wheels wobbling and covered in dust at 8:30pm, you had a quick wash, put on your stage gear and put on a show!
Buddy always said, if the people are good enough to wait for us, the least we can do is give them a good show!
Some of the crew weren't quite so enthusiastic when the show went until 12 am, but it was a three hour show, and there were never any shortcuts just because they rolled into town late from a breakdown.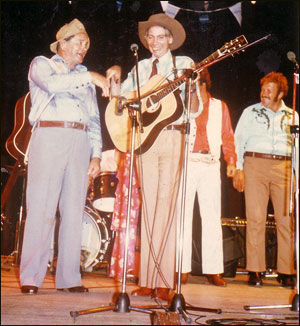 Taking music to the people was his life and his passion, he was blessed to have a wife who shared his dream!
He loved gathering wood and building a huge bonfire out in the never never, he loved his bush television – a crackling fire!
Of course there was always a damper in the ground and billy tea boiling on the coals, then out would come the guitars!
When everyone else went off to sleep, I would watch him looking into the flames, jotting words down, strumming quietly, and looking very contented.
Sometimes I'd sneak out and sit with him, he'd give me a kiss and a cuddle and pour me a cuppa, and we were contented in the silence together.
I could write a lot of things about Buddy Williams, and I'm not going to say all of them would be good, he was a human being… But, did he let his wife and family know that he loved them – every day!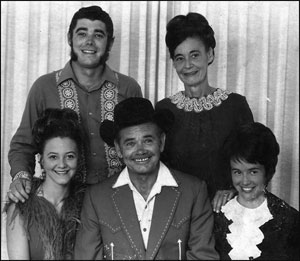 Was he a "hard man on the road" as John Williamson said in his song about Buddy? – he sure could be!
Did he learn from people, and did people learn from him? – all the time.
Did he think Mick Jagger was a supreme performer – better believe it.
I remember going to see the Rolling Stones at the Hordern Pavillion with Dad and Mum, and when we came out of that huge stadium and walked into the street he commented: "In years to come, country performers will display similar energy onstage", but I doubt it will be in my time…
He loved the work of Henry Lawson, John Lennon, Banjo Patterson, Paul McCartney, Tex Morton, Jimmie Rodgers, Slim Dusty, Stan Coster, Johnny Cash, Eric Bogle, Tommy Emmanuel, Lindsay Butler, Don McLean, and so many more…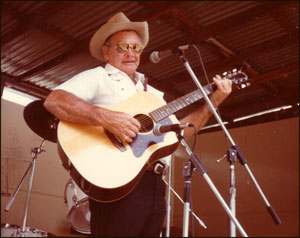 So, what can I tell you about Buddy Williams other than this:
He was an orphan who lined up each week hoping to be "picked". When he was "chosen", it wasn't as the son he longed to be, but as an unpaid work hand on the farm owned by his adoptive "parents" the McFarlane's.
He searched for his mother all his life.
He told me many stories and taught me many things, here's a little taste of Buddy wisdom...
"if you have $500 in your pocket, and you have the choice of buying 10 outfits for $50 or one for the whole $500, buy the one – you'll always look good, and others won't know that's all you have, you don't know where that may lead you, of course, you must have the attitude to match" – and he'd laugh!
He said: "money isn't everything – you can always get more of it!"
He and Grace taught Harold, Kaye and I kindness, humility, ego, strength, laughter, tears, manners, curiosity, forthrightness, honesty, toughness, and how to say what you mean and mean what you say.
If you're hoping to read something unbiased, you've come to the wrong place.
I adored the man, and always will…