Slim Dusty – Chronicler of the Bush
by Max Ellis
Some seven years after his death on September 19th, 2003, and more than 60 years after he started his singing and recording career, it is perhaps an appropriate time to consider the life and achievements of one of the most celebrated Australians of the 20th century, David Gordon Kirkpatrick or, as he was universally known, Slim Dusty.
While Slim was recognised as a consummate entertainer, a talented songwriter and singer, an industry leader and respected public figure for some six decades, he excelled in another role. Many people would agree that he was probably the most influential and important chronicler of Australian life outside the capital cities, since Paterson and Lawson took up their pens.
Over a lifetime travelling around Australia, Slim recorded a vast collection of songs. These songs, without doubt, will be celebrated in the future as a genuine reflection of our traditional country way of life before it came under assault from modern technologies like the internet, TV, computers, mobile phones and so on.
Hands on songwriters
Why was Slim's music such a genuine reflection of country life with all it's many facets including our attitudes, landscapes, language, memories, experiences and so on ? Well, Slim Dusty performed and recorded over 1,000 songs during his long career. Apart from his own compositions and those of his wife Joy McKean, he sang songs by many other writers including a coterie of genuine bush men and women who often focused on the lyrics leaving the melody to Slim.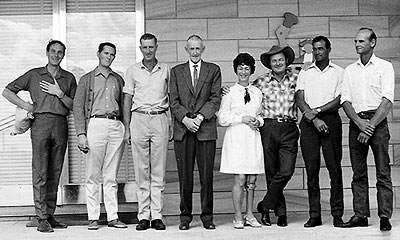 Slim and some of his songwriters outside Radio 2TM in 1971
with (at left) Radio 2TM Manager Max Ellis and musician and 2TM staffer Bob Clark...
Wave Jackson, Mack Cormack, Joy McKean, Slim Dusty, Joe Daly, Stan Coster
These writers, who included Mack Cormack, Gordon Parsons, John Ashe, Tom Oliver, Stan Coster, Kelly Dixon, Wave Jackson, Joe Daly, Norma Murphy and others, were all men and women who spent their lives working on the land. They came from all parts of the nation and their attitudes and experiences were shaped by how they lived and worked in the Australian bush in the second half of the 20th century.
When Stan Coster wrote about building a train line into a remote nickel mine in "Three Rivers Hotel", he knew about it because he had the callouses to show he'd done it himself. When, in "Trumby", Joe Daly reflected on the fate of an aboriginal ringer who drank from a poisoned water hole intended for dingos because he couldn't read the warning, it was because Joe knew and worked with the outback characters in the song. Kelly Dixon, who wrote "Leave Him In The Long Yard", had a lifetime of experience with working horses in the bush. And so on.
Another important contributor to Slim was Joy McKean. A school teacher's daughter from the country, Joy is widely acknowledged as one of the finest and most prolific songwriters in Australia. She is a superb exponent of the Australian bush ballad and many of her compositions, like "Indian Pacific", "The Biggest Disappointment" and "Lights On The Hill", have become classic Slim Dusty songs. Of course Joy has always had a special insight into Slim's music as she performed on stage and travelled Australia by his side continuously after their marriage in 1951. Joy's songs are full of vivid, evocative, imagery, bringing her own outback experiences to life. Her musical and lyrical expertise made a significant contribution to Slim's work and I believe her influence in the shaping of the Slim Dusty legend can never be under-estimated.
Slim himself wrote many hundreds of songs based on his own experiences in the bush. In fact, the majority of the songs he recorded up until 1970 were his own. Many were based on his own experiences. For example one of his early compositions, "When The Rain Tumbles Down In July", penned when he was just 18, is a beautifully evocative but gentle ballad about the flood season in the mountainous Macleay Valley where he grew up in the '30s and early '40s. From his earliest days when the Kirkpatrick family scratched a living from a small farm at Nulla Nulla Creek, followed by a lifetime of travelling, meeting bush characters, mixing with aboriginal people and experiencing life in the remotest corners of the nation, this man was uniquely qualified to sing about the Australia that existed outside the suburbs. As Slim said himself in his book "Another Day Another Town":
"Over the years the songs I've found have built up a picture of a changing country. I didn't set out to be any sort of historian, I just wanted to sing about Australia: but the more I travelled and the more time I spent in the outback, the more my life became tied to the land and the people out there."
It's interesting to note that few, (apart from Joy McKean and John Ashe) of Slim's core bush ballad writers, including Slim himself, had much formal education. Where these men (and they were mostly men) found and developed their outstanding ability to express their emotions and experiences in such a skilful, appealing and often romantic way, is a fascinating subject in itself. Did it develop from the isolation, from the influence of Australia's Irish heritage or as a time honoured and accepted custom of the bush originating in the mists of European folk tradition? Either way it continues to this day with the penning and performance of rhyming bush poetry and bush ballads forming a distinctive and increasingly popular expression of Australian rural culture in the early 21st century.
Of course, not all Slim's songs were narratives about the bush. He attracted other excellent writers like former Cold Chisel member Don Walker who wrote the moving song "Looking Forward Looking Back" for Slim, providing an emotional and highly appropriate lyric, theme and title for Slim's 100th Album in 2001. Eric Bogle was another. Slim always knew a good song or lyric when he heard it !
In his earlier years he also recorded several Australian folk ballads and during his career set to music and recorded a number of Lawson and Paterson poems including "The Man From Snowy River".
Click here for When The Rain Tumbles Down In July lyrics.
Click here for Indian Pacific lyrics.
Country or Folk Music ?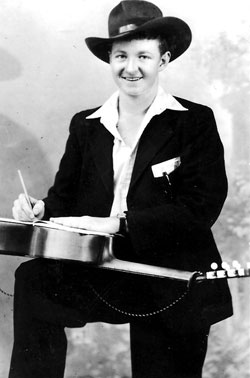 From his earliest days Slim always associated himself with Country Music and its strong narrative style. Country shares this story-telling approach with most folk music, undoubtedly one of the reasons for the on-going popularity of both genres. It has been said that Australian Country Music, especially the Bush Ballad, is really a form of contemporary folk music.
The main difference of course, is that country music is generally preserved in its original written, published and recorded form. Thus it's degree of authenticity and historical relevance is perhaps closer to published works of Henry Lawson, Banjo Paterson or Charles Thatcher than to the anonymous authors of folk songs like " Botany Bay" or "The Old Bark Hut" or the early broadside songs that sometimes provided the basis of later folk song lyrics.
Another feature of importance of this amazing collection of material is the extent of geographic and social territory it covers. This, together with its indisputable authenticity, makes it unique. One only has to glance through the titles of Slim's songs to realise the depth and breadth of subject matter in this huge body of work.
In short, Slim Dusty's songs are not only entertaining but they have the potential to be history.
But whether country or contemporary folk, Slim's music holds a much wider appeal than one might expect, with his music transcending the normal boundaries of genre, race, age and social status. This makes his virtual exclusion from metropolitan radio, even today, hard to understand.
Photo: Slim aged about 15, before he adopted his own distinct Australian style of hat.
Lack of airplay
To a large degree, Slim's popularity occurred despite organised media. Applying these "genre rules" for popular music was, and is, the domain of commercial radio (though the internet is changing things these days). In the 1940s and early '50s, country music was an entirely legitimate and very popular radio genre in the eyes of Australia's major metro commercial radio stations. For example, in Sydney, 2SM, 2KY, 2UW and 2CH, and in Melbourne 3DB and 3XY, all supported various country music programs and talent quests. But once Rock & Roll arrived in the late '50s, country music was banished back to the early hours of regional radio where it was regarded as "music to milk to". Australian country music artists found general radio airplay difficult if not impossible to achieve.
For this reason, Slim Dusty's music has never had the airplay its sales actually justified. Thus, by 1957, "A Pub With No Beer", definitely a country song, appeared on (and later topped) the pop charts, only after producer Ron Wills insisted that radio chart makers judge "The Pub" on it's incredible sales and not on programmers prejudices.
Slim's response to this situation was to take his music directly to people in country Australia. After a somewhat difficult start with their own small touring show in 1954, he and Joy entered a six year partnership with the Foster family, working the then highly popular Showground Circuit all over Australia. In 1963, they left the showgrounds and set off again with their own travelling show. In fact, Slim continued to tour in various ways right up to the end of his life. The "road" became his life and he would get restless if he had to spend too much time at his home in Sydney.
His legendary tours (often punctuated by stops for fishing) brought him into contact with people and communities in every remote corner of the country. Slim brought entertainment and excitement and in return he went away with the respect of his audiences, many new and confirmed friends and experiences that could only have been found in this unique manner. In fact, it's probably fair to say that in many ways the effects of this continuous outback touring played an enormous part in shaping the music Slim created.
Recordings set records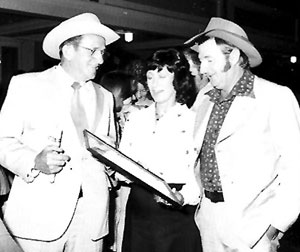 It's an irony that to this day metro radio refuses to play Slim Dusty (or most other country music) despite Slim having sold more than seven million albums and becoming by far the biggest individual record seller in our nation's history. And perhaps it's just as well for Slim and Australian heritage that they didn't!!
These vast sales accumulated over many years as Slim built his profile in the bush with tireless touring backed up by support from regional radio. From the late 60s radio 2TM Tamworth with it's clear channel, started broadcasting country music throughout inland eastern Australia 5 nights a week and fans in remote areas were sometimes able to hear the latest Slim Dusty album without having to wait for a visit. Gradually his reputation extended into the cities (Sydney's western suburbs, full of emigrants from the bush, were one of his biggest markets). In the early years, EMI's contribution was somewhat limited partly because their recording artist was always on the road. But in later years, with Slim's sales making up such a significant part of the company's revenue in Australia, their support increased dramatically.
Getting started on disk wasn't easy. Slim's first recording was a process or custom record, cut in 1942 at the Columbia Gramophone Company (later EMI) then based at Homebush in Sydney, when he was 15. The recording session and 25 pressings of 78-rpm records with a song on each side, cost him 25 pounds and Slim used them to build his profile, sending them out to key radio stations all over the country. Over the next few years he recorded another four process records. Arch Kerr, Columbia's recording manager, had refused to sign up the youthful Slim to the famous Regal Zonophone label insisting he needed more experience. So it was 19th of November, 1946 when Slim finally recorded his famous first Regal Zonophone 78 single "When The Rain Tumbles Down In July" and really launched his recording career. When he died in 2003, he had been signed continuously for some 57 years to the same record company, EMI, indisputably a world music industry record.
Unlike most pop music, the music Slim performed wasn't based on strictly commercial imperatives (though in the end it probably fulfilled many of them). As an entertainer who started reaching out to live paying audiences when he was a teenager, it's no wonder Slim was so confident about the music he wanted to present. But he was also prepared to be innovative and over the years he gradually modernised the sound and musical style of his backing without compromising in any way the integrity of his lyrics or the way he presented them.
Photo: Slim and Joy with the Father of Australian Country Music Tex Morton at the Golden Guitar Awards in the Tamworth Town Hall in 1976. Tex had been one of Slim's boyhood idols.
Slim's backing band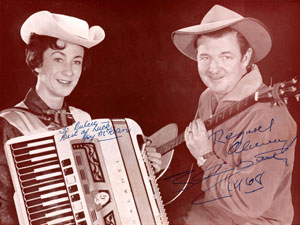 As with his songwriters, Slim insisted on the best people to support him musically.
An excellent rhythm guitarist in his own right, he surrounded himself with accomplished and versatile musicians. His original guitarist, Barry Thornton, who worked with Slim for years, is credited with originating the distinctive lead guitar sound which set the style of practically all bush ballads – Australia's own unique form of country music – from the mid 1950s onward.
In the early '70s, Barry moved on and Slim engaged two musicians from a well-known New Zealand group, The Hamilton County Blue Grass Band.
Fiddle player Colleen Trenwith was a classically trained violinist and, with her husband and banjo player Paul, they brought a new, sharper more contemporary sound to Slim's music. Later, Slim formed his "Travelling Country Band" and from 1976 it ran under the leadership of musician and record producer Rod Coe who, as well as playing bass guitar, introduced the double bass to Slim's stage.
Photo: An autographed fan photo of Slim abd Joy in 1968, from the collection of the late Dulcie Lowe of Guyra. Joy was an integral part of Slim's "backing band" especially in the early days of the touring show.
Longevity on stage and in the studio
The fact that Slim's activities as a professional entertainer spanned such a tremendous period is quite unique. How many other individuals, prominent in any field of activity, can claim to have been on top of their chosen professions for some seven decades from the 1940s to the 2000s? In most vocations, age is a limiting factor, but Slim's music and his ability to perform it, seemed to maintain it's quality and relevance, as he grew older. Indeed, when aged 73, his stunning performance of Waltzing Matilda, which closed the worldwide TV coverage of the 2001 Olympic Games, served to confirm his iconic status for most Australians. (Strangely enough, one other example of extreme career longevity can be seen in the parallel career of Smoky Dawson who died early in 2008, aged 94. Smoky started in the '30s and performed consistently until he died.) It is another reason that Slim's music so effectively encompasses such a significant slice of Australian history.
Amazing recognition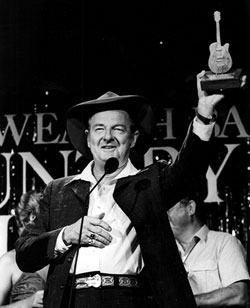 During his long and extra-ordinarily active life, Slim accumulated national recognition from generations of Australians, earning their respect and admiration as he became better known. It's debatable if the death of any individual in recent times has generated such an incredible public response, creating unprecedented levels of media coverage in Australia with virtually every newspaper carrying pictures and stories on their front pages, and all radio and TV news and current affairs programs headlining the event. The nationally televised State funeral in Sydney also attracted unmatched attention.
And no wonder! Slim's life epitomised the Australian story, an uplifting and inspirational narrative of a simple family man who transformed his boyhood dreams in the bush into reality. Indeed it could have been one of his own songs!
But of course like all legends the truth is far more complex. This was a man who was far from ordinary in so many respects. He had many talents but he managed to make everything he did look so easy. He was a humble man without a trace of pretentiousness or artifice in either his private or professional life. What you saw was what you got with Slim.
He was a fine musician and singer, a talented song and lyric writer, a thinking and highly professional showman, an acute observer of life and an exemplary husband and father. He had an ability to pick good songs and make them work and he attracted a wide and intensely loyal circle of close friends, many of whom worked with him. He was blessed with the ideal companion in Joy McKean who shared and managed his career and confirmed the wisdom of the old show biz admonishment "don't ever marry a mug (punter)".
Above all, Slim revelled in the life he had created, often marvelling to friends that he was getting paid for doing what he would happily do for nothing. His enthusiasm for his music was unflagging and his ability to share this passion with his audience and those around him was undoubtedly a major factor in his success.
As Joy McKean has said "……. his own unique talent and abilities were the driving force behind everything we did. I used to say he created a moving current around himself that dragged the rest of us along, willy nilly!"
Slim Dusty was a remarkable man who will be long remembered not only as a chronicler of bush life but also for the extra-ordinary pleasure he gave so generously to so many Australians when ever he wrote or sang about our wide land and its people.
Photo: Slim with his Album of the Year trophy at the 1984 Country Music Awards. Since the Awards started in 1973, Slim has won 37 Golden Guitars including one posthumously in 2005.
- - - - -
Max Ellis has had a long involvement with Slim Dusty and Australian country music. He was one of the founders of Australian country music's Golden Guitar Awards, the Tamworth Country Music Festival and the Country Music Association of Australia. He is a Board Member of the Slim Dusty Foundation which is establishing the Slim Dusty Centre at Kempsey, NSW, and runs his website www.historyofcountrymusic.com.au
This article was first published in November 2008 in issue 23 of "Australian Folklore", the official journal of the Australian Folklore Association Inc. For details of the AFA see: www.une.edu.au/folklorejournal/index.php