Tribute by Max Ellis on the occasion of Jimmy's induction into the Galaxy Of Stars at the Tamworth regional Entertainment Centre, January 2008.
Jimmy Little who is our first inductee today, was born in Yorta Yorta country near Echuca on the Murray and moved to the South Coast of NSW. At the age of 15, in 1954, a perceptive young country guitarist saw and recognised the Nowra boy's outstanding talent and persuaded him to come to Sydney where they formed the Jimmy Little Trio, launching Jimmy's stellar career.
That man was Pat Ware, one of our legendary figures of Tamworth and Australian country music. I'm happy to say he's sitting here with us today… a proud and, I'm sure, moving moment for Pat.
Jimmy's success was immediate with the Trio performing all over the city including sell-out performances on the famous Show Boat.
Jimmy began his recording career in 1956 with Regal Zonophone, moving to Festival Records in 1959.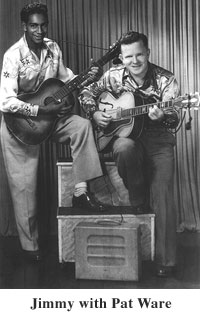 A steady stream of hit country songs followed through the 1960s, including the chart topping Baby Blue and, in 1963, his famous signature song Royal Telephone which sold more than 75,000 copies.
His nationwide profile exploded with regular TV appearances, a leading role in a successful movie ("Shadow Of The Boomerang"), heaps of radio and constant touring with stars like Col Joye. In 1964, he was named Australian Pop Star of the Year.
Through the decades to follow, with his wife Margie at his side, Jimmy continued recording and touring. He has released some 40 Albums over the years and has earned many Gold records. Highly respected by all, Jimmy became a role model to many young people, particularly in the aboriginal community. In 1989, he received the "Aboriginal of the Year" award.
In 1994, in recognition of his outstanding career in country music, he was elevated to the Country Music Roll of Renown. Incidentally Jimmy has had a long association with Tamworth. He did several shows for Radio 2TM in the late '60s and early '70s, shows which paved the way to the Awards and the Festival. He has always supported and encouraged the country music scene here and for that we are very grateful. Thanks Jimmy.
He has won both Artist of the year and Single Release of the Year Deadly Awards in 1999. In 2002, Jimmy was voted Country Artist of the Year and in 1997 he was honoured with the Contribution to Aboriginal Music Award. In 2007, Jimmy accepted the Deadly named in his honour – the Jimmy Little Lifetime Achievement Award.
In recent years, Jim has suffered with kidney disease and, not so long ago, underwent a highly publicised transplant. As a result of his own experiences, he established the Jimmy Little Foundation to raise money for the fight against kidney disease among Australian indigenous people.
In 2004, a public vote named him a "National Living Treasure" and he received an Order of Australia for his services to the entertainment industry and his ongoing work with indigenous education and health. Queensland University of Technology awarded him an honorary doctorate. Doctor Little!
It might seem ironic that this man who has done so much and inspired so many should be called Jimmy LITTLE. He should be known as Jimmy the Great or Jimmy the Magnificent. But Jim would probably disagree. In his own gently modest and deeply spiritual way he is an inspiration to us all and the fact this wonderful man has blessed Australian country music with his involvement for over half a century is a tremendous bonus to all of us who love the music. Let us salute a great Australian and a great and deeply loved member of our country music family. No-one is more deserving of being in the Galaxy of Stars than Jimmy Little.
---
Jimmy died in Dubbo, NSW, on 2 April 2012