The Story of Australian Country Music
– Slim, Chronicler of the Bush
A Tribute to The McKean Sisters
Arch Kerr – pioneer record producer
Australia's College of Country Music
Brief History of the Golden Guitar Awards
Country Music Capital Meets Music City
THE HADLEY RECORDS STORY
History of the College of Country Music
How Tamworth became Country Music Capital
How the College of Country Music Works
Narrative! Narrative! Narrative!
Origins of the Tamworth Country Music Festival
For more information
Contact: Max Ellis
Email info@historyofcountrymusic.com.au
Disclaimer
All matters relating to the conduct of this site remain under the total control of Max Ellis or his nominees who will endeavour to ensure the accuracy and balance of the content and proper conduct of the site but, subject to legal requirements, cannot be held responsible for any digression or non-compliance in respect of these matters.
The Hadley Records Story
For over four decades, Eric and Hilary Scott's Hadley Records has been recognised as the most important and influential independent record label in Australian country music. Over the years, Hadley artists have won 10 Golden Guitars including a Country Music Capital Award to Eric himself for his contribution to the industry. Quite apart from the incredible number of talented recording artists launched by the relatively small label, Hadley and Eric Scott played a pivotal role in the conception, establishment, promotion and subsequent development of Tamworth as Australia's "Country Music Capital". Here then is the fascinating story of Hadley Records.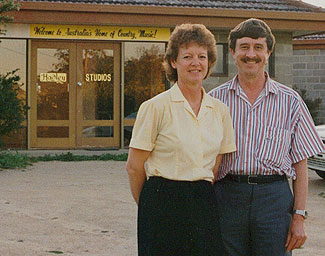 The Hadley story starts with a young English man, Eric Scott and his Australian wife, Hilary, becoming heavily involved with a country music programme from 7LA Launceston, Tasmania, Australia in the late 1950s. The station had started making acetate disc and tape recordings of a few of the local Launceston amateur artists and which were channelled into the "Songs in Western Style" programme, and young Scotty became totally involved in developing the programme.
In 1960, Hilary and Eric decided to record one of the local acts and release a "proper" record on their own label. The name Hadley was inspired by a small village called Monken Hadley near to where Eric was raised in England.
The first Hadley recording session took place at the 7LA auditorium in the Quadrant, Launceston. Two brothers, Bill and Ross Kettle recorded "Judy" (Jody) and their own composition "I Miss Holding You": (Max was as yet too young to join his brothers on the record.) They played their own acoustic guitars and were backed by Geoff and John Snooks on fiddle and steel guitar. The single was released on 1st December 1961 and the Singing Kettles stayed with the label for the next 10 years.
And so the die was cast. Having made one record... Why not another? Amongst the Country and Western artists a feeling of discontent had been developing with what they often considered was unsympathetic treatment by the recording engineers in Sydney and Melbourne. In fairness, it must be acknowledged that country and western music was certainly not to the musical taste of these people, so their handling of it was perhaps understandable. This worked in favour of the young and enthusiastic Hadley Records who were all fired up to record this particular type of music as a specialty.
The next recording took place at the National Theatre, Launceston on 6th February 1962, at the end of a performance of the Slim Dusty Show. Touring with Slim at the time was Rocky Page from Berri, South Australia, a well known c/w singer and stage hypnotist, and Rocky became the second act to sign with the label. The band used was actually the Slim Dusty crew, with Joy McKean on Bass, and Barry Thornton playing electric guitar.
For the next two years, recording sessions were conducted with mostly borrowed portable equipment, although the first Hadley built gear was starting to be used too. Hadley borrowed from the bank to buy their own Rola 66 Mk.2. This machine was the label's mastering recorder until the early 70's when it was replaced by the ubiquitous Revox A77.
From December 1964 to the time Hadley left Tasmania, most of the recording sessions were undertaken outside of licenced hours at the cabaret room of the Hotel Tasmania, whose management were sympathetic to the cause. All the time, they were gathering equipment and experience as they went along. During Hadley's time in Tasmania, when it grew from hobby status to a part time business, the label had discovered the emerging talents of the Kettles, Rocky Page, Eddie Tapp and Johnny Heap. Eddie, who came from Scamander on the Tasmanian east coast, had also started by recording his own songs on acetate discs for 7LA's programmes. He had joined the travelling c/w shows and toured the mainland, and when he returned to Launceston in 1965, he signed with the Hadley label.
Eddie's own "Star of Love" and cover version of "My Father's voice" were to be his best ever record release and were issued together as part of Hadley's fourth E.P. (HEP 504). The closest he came to eclipsing that first record was with his Columbia single, "Katrina".
Dusty Rankin, (real name Roger Hogan) who had become a well known c/w name through his 78 records with Regal Zonophone was also touring Tasmania with the "All Star Western Show: Dusty was persuaded to come back to record and work on a dozen songs to be recorded by Hadley. On 20th June, 1965, Dusty flew back to Launceston from his home in Birchip, Victoria to cut the session. It was historic for two reasons. Not only was it a return to record and the first microgroove production for Dusty Rankin, but he was also joined on two songs by a sixteen year old songstress named Jean Stafford. Nurtured by Hadley Records, Jean went on to become Australia's number one female c/w singer throughout the 1970s.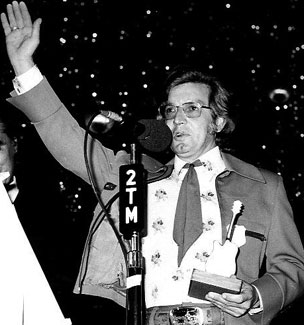 Being still a part time business, Hadley had to go where Hilary and Eric went for Eric's career in radio. In 1966, they headed off to Moree in New South Wales where Eric worked for six months with 2VM. Although the label continued to supply record dealers all over Australia, there were no recording sessions, nor new plans to record while they were in Moree.
The next move was to Melbourne. Eric was employed by 3AW for 18 months, and in this period, once again Hadley advanced. On the equipment side, the first recording panel was completed, still portable, but the final result of Eric's earlier developments.
New names were added to the label's roster - Michael Cooke from Tamworth, New South Wales and Kevin and Joyce Durdin from Cobden, Victoria. Following the previous practice, Hadley used a hotel cabaret room (the Epping Hotel) for the Cooke and Durdin sessions, and recorded a Singing Kettles session at the home of Alan Hawking, one of Australian country music's great musicians.
Eric & Hilary's next radio prompted move was to 2TM, Tamworth, New South Wales in October 1968. Remembering how impractical it had been to hold recording sessions at Moree, which was only 300 kms away from Tamworth, Eric and Hilary came back to NSW, thinking that they wouldn't have the scope for Hadley to continue and fully intending to call it quits.
However, they found that Tamworth was fertile ground for country music. The town had experienced musicians who had a deep background in country music. It had busy, promotional types, a pool of c/w singers with potential and enthusiasm, an active c/w club and a radio station with a specialist country music radio programme on a clear channel with a D.J. who was more than usually enthusiastic. There was also a need .. a vacuum ready to be filled .. for a place in Australia where any country, Country & Western; or Hillbilly singers .. call them what you will .. could feel they were wanted and there were people who were interested in what they were doing. In late 1969, Eric suggested to 2TM's Max Ellis, John Minson and Kevin Knapp that Tamworth needed a name .. an identity like Nashville's "Music City" .. a name that would immediately say what Tamworth was all about. Max came up with the now famous "Country Music Capital" (of Australia). Tamworth was to become that place, and needless to say, Hadley remained in operation, and the rest is history.
During the first year in Tamworth the Singing Kettles came over to settle. In late 1969, the now famous Country Music Capital of Australia concept was launched. From then onwards, all records coming out of Tamworth, all of the radio programmes and much of the written publicity carried the Country Music Capital logo.
In 1970, Eric and Hilary found that at last they were able to build a home for themselves, and Hadley Records was given its first proper recording situation. A studio (24 feet by 20 feet by 15 feet high), control room and store room were included in an area of seven squares added to the end of the house. An updating of the recording equipment was begun again, and record sales grew steadily by 20 percent to 25 percent each year.
Money being very hard to come by, all available funds were channelled back into new releases, so, although the acoustical properties were very good, the recording conditions were basic to say the least. The musicians threw themselves into the studio work with immense dedication and enthusiasm, working long hours in the heat of summer and the considerable cold of Tamworth winters. This new studio allowed Hadley the freedom of conveniently recording whenever they wanted to. They were not bound by availability of other people's premises.
Because the number of country musicians in Tamworth was so small, if banjos, country fiddles and pedal steel guitars etc. were required for recordings, they would have to be brought from elsewhere. For example, pedal steel guitarist, Norm Bodkin, drove 400 miles from Cobar to Tamworth and back again every time his instrument was needed on sessions! Hadley desperately needed a multi-track recorder so that when a musician was brought in, he could work on a large number of songs that had been recorded in the previous weeks.
This was already being done using very primitive methods with conventional recorders and something better was obviously needed. Late in 1971, Hadley began raising the finance to purchase an 8 track Otari mastering recorder that used 1 inch wide recording tape. In Australia at the time, only leading studios in Sydney and Melbourne had such equipment, so the development was very much state of the art.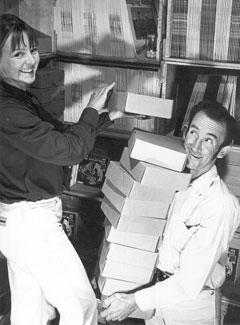 However, before the hassles with the bank were concluded, something happened that rendered the loan quite unnecessary! On 29th March, 1972, Hadley Records released its first national hit recording! In 1962, Yeldah Music publishing had been formed to look after original c/w compositions used on Hadley releases, and Yeldah had been corresponding with a songwriter called Slim Newton from Tuart Hill in Western Australia. One day, quite unannounced, Slim arrived in Tamworth to settle with his family and try his luck with the music he loved. He visited Yeldah and Hadley to audition some of his latest songs which had been sent previously on tape to Tamworth, but had gone missing. One of those songs was a ditty about a redback spider on the toilet seat. It was quickly recorded and released and went on to sell 96,000 copies in Australia and 4,000 copies in new Zealand, earning Slim three gold records.
With the national acceptance of "Redback on the Toilet Seat", Hadley found that commercial radio was ready to try other Tamworth productions instead of dismissing them out of hand as just hillbilly records. Early in 1973 "Little Green Valley" by the Singing Kettles climbed to the top of the charts in Victoria and Tasmania when it was picked up by 3UZ, Melbourne. It charted for over three months in both states, and sold a very respectable 4,000 copies. Then, South Australian radio pulled Rex Dallas' novelty "The Australian Hot Meat Pie" to a high position on the top 10 in that state. That was in May and June of 1973.
By 1976 Hadley Records and Yeldah Music had reached the stage where a better studio facility was needed. A steady stream of country music artists from all over Australia was making its way to Tamworth to use the services of the Tamworth musicians and obtain the Hadley sound on their recordings. So Hadley decided to design and build, from the ground up, a brand new studio and offices at the label's present site in Egret Place, Calala, Tamworth.
The complex was completed and open with its first recording sessions in April, 1977. During that month, Pete Skoglund recorded his double disc set of yodelling songs for Hadley's own label. Progress went ahead by leaps and bounds. By this time, Hadley was being hired for much of the c/w product for other Tamworth independent labels. Hadley had also been commissioned to record Buddy Williams product for RCA, with Eric representing RCA as the producer.
Because Tamworth's music industry was entirely sympathetic to what people like Buddy are musically all about, all but two of his records from the early 1970'2 to his death were recorded at Hadley in Tamworth. Nev Nichols also cut some early material for RCA. Even the bastion of Australian c/w records since the days of Tex Morton until the 60's, EMI Limited, hired the studio.
The need for a full time Hadley producer was felt. Norm Bodkin whose expertise and unbounded enthusiasm had been one of the major reasons for the success of the 70's was the logical choice, and he joined the label in September, 1978. Regrettably, he was only able to stay in that capacity until July 1979, when he returned to his previous trade as a sign writer. Hadley restructured to use independent producers until February 1983, when one of Australia's foremost country guitarists, Lindsay Butler, filled the vacant house producer's chair and brought the total Hadley staff to five.
All the while, the technical side of Hadley had been growing and improving. In 1981 the label upgraded the facilities to 24 track with the purchase of a microprocessor controlled Otari MTR90 machine (24 track on 2 inch tape). The Hadley operation had been undoubtedly successful, and one of the secrets of that success was that the small group of enthusiastic people involved did as much of the manufacturing and marketing processes as possible. The paper jungle of musician payment, royalties, accounting and publicity was becoming enormous, so in 1979, Hadley purchased a computer, which was able to handle as much as two or three people. Because operating programmes to suit the very specialised needs of a specialist record label were not available, Hadley created its own exclusive suite of software. Once again, Hadley records brought to Australian country music the latest technology when that technology was very new.
In August and September of 1983 Eric journeyed to the UK to investigate the practicalities of updating the Hadley studios to state of the art digital sound. In 1972, Hadley had installed the first 8 track analogue recorder outside of the Sydney and Melbourne studios- Australian country music's first 8 track machine, - so in 1984 the label wanted to introduce digital tape mastering facilities to Australian country music. Hadley's new Sony digital equipment began operation in February 1984, and from that time, all Hadley product has been cut from digital masters. Thus digital mastering stole quietly into Australia's country music industry.
During 1985, in response to changing public tastes and a downturn in sales of traditional country music, Hadley began to change the direction of it's house product away from a predominantly bush ballad catalogue, and diversify towards country gospel, bush band, instrumental and M.O.R. productions, relying on the young Ian Quinn to keep the Australian bush ballad niche open in the Hadley catalogue. At the January 1987 Australasian Country Music Awards, Hadley Records was presented with a citation acknowledging its 25 years service to the Australian country music industry.
The next technical development occurred in December, 1987, when an MCI JH636 series automated mixing desk replaced the old house assembled mixer that had been responsible for the entire Hadley output (and most of Tamworth's output!) for something like 17 years! Many of the highly specialised units on the old desk were incorporated into the MCI, resulting in a computer controlled mixing facility a stage further in development to that envisaged by the designers of the original MCI desk.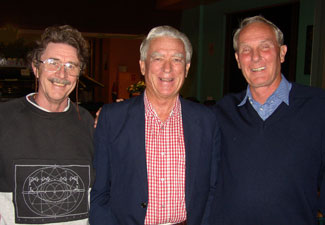 1989 saw the release of Hadley's first compact disc, an instrumental album by Norm Bodkin and Kenny Kitching. As with the transition from 78 rpm records to the microgroove, Australia's country music fans were amongst the last to accept the new technology.
From the beginning to the present day, the Hadley Record label and studios have been owned and operated by Hilary and Eric Scott. Within the financial limits or a private family business, they have always tried to give Australian country music (Often the poor relation of other branches of the music business) the benefits of current technology, and boundless enthusiasm.
At 30th June 2002, Hilary and Eric decided to vastly reduce their work load by closing down both the studio and the catalogue wholesale divisions, leaving only Hadley catalogue administration & leasing, and Yeldah Music Publishing operating.
In 2005 after producing Australian country music since 1961 the production rights to most of the Hadley records Catalogue were sold.
The new owners of the recordings previously released under the Hadley Records label are Bellbird Music from Brisbane. This was a new company formed by a small group of industry identities to specifically purchase Hadley's Australian recordings. They are Ron and Rosie Adsett (the Country Music Store), Meryl Davis (daughter of guitar legend Barry Thornton), and Country Music broadcaster Nick Erby. Together they formed Bellbird Music for the express purpose of bringing these historically significant recordings back to the public, and to Country Music Fans.
Bellbird Music has embarked on a considered programme of reissues and compilations, refreshing and re-presenting recordings from many of the classic names of Australian Country Music like Rex Dallas, Rick & Thel Carey, Jean Stafford, Kenny Kitching and Norm Bodkin, Slim Newton, the Singing Kettles, Shirley Thoms and Trevor Day to name just a handful from an extensive collection of fine Hadley artists.
So after more than four decades, the music recorded by Eric Scott for Hadley records, is being given a new lease of life, which guarantees it will continue to be heard for decades to come. .Surely this is the finest tribute possible to a small label that made such a massive contribution to Australian country music.
For more information on Hadley Recording contact Bellbird Music 68 Charlotte Street, Brisbane, Qld. Phone 07 3221 3000.
Photos, from the top:
Eric and Hilary Scott outside their new studio in 1976.
Rex Dallas, one of Hadley's biggest stars, collects another Golden Guitar, also in 1976.
Hilary and Slim Newton pack more boxes of the single Redback On The Toilet Seat as demand for the song soars throughout the nation.
From left, Eric with long time 2TM staffer and Country Music Awards emcee Kevin Knapp and Max Ellis.