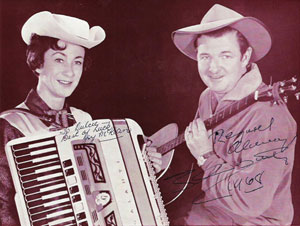 Everyone knows that Lights On The Hill, written by Joy McKean and sung by Slim Dusty, was the first Golden Guitar winner 32 years ago in far off 1973. Not only did it win Song Of the Year but it also took out Best EP or Single for Slim while his LP Me And My Guitar took out Album of the Year.
Thirty years later in 2003, Slim picked up his 36th Golden Guitar for Norma Murphy's moving song Just An Old Cattle Dog. In fact over the 31 years up to his passing, there were only seven years in which Slim didn't carry off at least one Golden Guitar.
Of course the Golden Guitars were only one of truck loads of trophies, citations and Awards that Gordon David Kirkpatrick accumulated during his long and incredibly productive life as Slim Dusty. But I've a suspicion that those little bronze guitars meant a lot to a man who, musically anyway, had everything.
Why did he love winning them? Perhaps because they were presented by the industry he loved and had done so much to create. Without Slim and Joy there's an argument that the Golden Guitar Awards would never have got off the ground. Without their steadfast support and enthusiasm, it's doubtful if Tamworth's position as Country Music Capital would have been accepted. Without Slim today's country music industry would not exist.
When the Awards seemed to him to be under threat, he worked tirelessly and selflessly to set up the Country Music Association of Australia, serving as Chairman for 10 years and making an immense personal contribution to building the vibrant industry we see on display tonight.
So at the Golden Guitar Awards please remember that we are not only paying tribute to the year's crop of exciting and talented artists. We should also remember and celebrate a man who climbed to the top of his industry in the '40s and stayed there well into the new century, to a man who seemed to relate so well to the youngsters coming through and who was always happy to give them a hand when he could.
Slim Dusty was many things to many people. To the Australian country music industry he was our leader and our inspiration.
For more information, visit www.slimdusty.com.au.