Golden Guitar Memories
By Max Ellis
Chief Executive of the Golden Guitar Awards
1973-1984 and 1992-2002
When the little group of visionaries at Radio 2TM in 1969 decided that Tamworth should become Australia's Country Music Capital, how could they guess that over 30 years later they would be celebrating the 30th birthday of one of the worlds most famous country music events... the Golden Guitar Awards.
The Awards (initially known as the Australasian Country Music Awards) were launched in January 1973, the culmination of a successful promotion built around 2TM's famous Hoedown Radio program, conducted with such enthusiasm and dedication by John Minson.
The first Presentations were staged by 2TM in the historic Tamworth Town Hall (long before it was air-conditioned) on a sweltering January night before a handful of bemused and sweating industry people and a few hundred hardcore country fans.
Compered by 2TM's Kevin Knapp, the ceremony featured a fake live radio hook up with the Hamilton County Bluegrass Band in New Zealand. Winners received a modest cash prize but the hits of the night were the gleaming Golden Guitar trophies, conceived by John Minson and myself, shaped by artist Harry Frost and polished and mounted by John.
The first winner was Joy McKean for Best Song for "Lights on the Hill", Slim won Best Single for the same song, Slim Newton Best selling for "Red Back on the Toilet Seat" and Hamilton County B.B. won Instrumental while Col Hardy won the 2TM Listener Award. Slim Dusty took out the Album with "Me and my Guitar" something of an omen, considering he has subsequently won 34 Golden Guitars, far more than anyone else is ever likely to win.
The first Awards didn't have a name sponsor, just Insulwool Insulation that paid a magnificent $45 to sponsor the radio broadcast on 2TM and 2MO!
Once the Awards were under way the years passed swiftly.
One of highlights that come to mind was the first Roll of Renown presentation to the legendary Tex Morton in 1976 when he told an enthralled audience how he was arrested for vagrancy under the bridge in the middle of Tamworth in the early thirties. There was a tearful reunion on stage when Joy McKean presented Heather with her Golden Guitar and a sparkling 16 year old Susanne Prentice from NZ appearing in 1975. (Shades of Leanne Rhymes!) Once the P.A. exploded half an hour before the show started but by the time the curtains opened we'd replaced it with one from one of the artists. Try that today.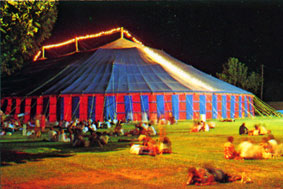 In 1980 the Awards moved into a Big Top on Number Two Oval with the boys from Bose providing the sound, and suddenly our audience quadrupled to 4,500. The tent era was short but full of memories. Barry Harleys' fabulous sets, ants attacking the audience and the tent almost blowing away in a storm are mixed with visions of Charlie Pride presenting to Reg Lindsay and Jeannie Pruett to a grinning Buddy Williams and a subdued Bushwackers Band getting their first Golden Guitar. There was the time when a gang of 50 fearsome bikies obediently switched of their Harleys when told the engine noise was interfering with the Awards broadcast. Or the memorable night when a pink suited Rocky Page stood up to several drunken louts who had already blacked a tough security man's left eye.
Once, Tex didn't appear when called to the stage to present an award because he was outside inspecting the tent guy ropes like the old showman he was. Luckily Tim McNamara stepped into the breach. Or remember the night when a huge Commonwealth Bank inflatable elephant disappeared never to be seen again and we'll never forget John Minson reading live commercials on stage in his Bib and Brace overalls and straw hat.
In 1982 we moved into the Jakab Ambulance works, creating the Music Factory after a massive clean out and long arguments about fire regulations.
Modern technology failed us there when an automatic slide projector went berserk flashing soon-to-be-presented winners names all over the place before it was stopped. No one seemed to notice but us! In 1984 the noise of torrential rain on the tin roof effectively drowned out the voices of those on stage while next morning Tamworth was split in two by one of the biggest floods on record.
In 1985 the Awards moved again, into the Workmans Club and suddenly was under a terminal threat of closure because of safety regulations. Barry Harley battled authority and won but at the Awards he almost lost a wandering Chad Morgan who was retrieved by his frantic minders, at the very last moment.
In the eighties in Tamworth High School with a smaller audience of industry people only, John Williamson made his mark while Jazzer Smith sobbed his heart felt acceptance of the Country Music Capital Award and later in Calrossy Hall, James Blundell burst on the scene.
Prime Television, our tremendous supporter, had covered the Awards over the years and in the late eighties under BAL Marketing and with sponsorship from NZI they took the program national.
That stopped in 1992 and the BAL Marketing tried an experiment by splitting the Awards into individual presentations at events all over Tamworth. The outcry was overwhelming and in 1992 the CMAA was formed to fight for a return to a proper awards night. A gigantic concert, which featured virtually every major country artist in Australia, was held in the Show Ground Rodeo Arena and raised $40,000. With Slim at the helm and Joy at the purse strings, the CMAA was underway.
Not long afterwards a generous 2TM handed over the Awards to the CMAA and in 1993 a new era started. In that huge, crude wonderful Rodeo Arena the modern Awards were born. It was a nightmare to stage. We moved in on Thursday midnight at the end of a rodeo, built a stage and set, hung curtains and drapes, rigged and tested power, lights and sound, put in a floor for the guest area and rehearsed our show for Saturday night.
Then on Saturday afternoon about 6 pm the gates would open and the long lines of waiting patrons, who had wilted in the sun for hours, would rush in clutching their folding chairs to stake a claim for the evening.
There were storms, rain, wind and one memorable night John Williamson singing "Pink Galahs" was interrupted by the sound of exploding fireworks from the adjacent trotting track. He didn't miss a beat. Stage Director John Spence handled all tension, dust and mud and we were always surprised when it actually happened on the night. What a team we had.
We shouted for glee when we signed up Toyota (who stayed with us for over a decade) and we watched Lee carry away a pile of Golden Guitars for "Boys". We saw Jimmy Little mesmerise the crowd retrieving a lost cuff link and placing it in his sleeve while smoothly singing "Telephone to Glory". There was Chad Morgan showing the youngsters what FUNNY really means and Keith Urban shocking the purists when he wore SHORTS!!! Among the originals were young stars like Graeme Connors, Gina Jeffreys, Colin Buchanan, Troy Cassar-Daley and Beccy Cole.
The Rodeo arena was a nightmare and a dream, full of character and atmosphere but ready to crush anyone who didn't take it seriously.
The new TREC was a breeze compared to it and for the first time for years we were able to focus on what happened ON stage rather than the stage itself!
We moved in 1998 after 20 years of campaigning and found ourselves in a venue befitting the importance of the event.
The first year the sound was fuzzy but an understanding Council found the money for proper acoustic treatment and since then it has been fantastic. Teething problems, seats, big screens, 5,000 guests and lights shinning in the audiences eyes… all settled down to routine and now its the artists who keep us on our toes.
Like Smoky getting lost at the moment he was called on stage, the experience veteran who forgot the words of one of his songs, the star who almost burst out of her scarlet evening dress on stage, the emotional appearance of Reg Lindsay after his illness or the exciting new generation who are rapidly taking over, like Kasey Chambers, Beccy Cole and Adam Brand,
The show and television became more and more professional as did the artists who performed, and by 2001 we felt we had gone about as far as we could go given our resources and skills.
2002 was a new ball game. The CMAA is working with experienced independent producers to manage the event and TV show. The CMAA team lead by Kate Nugent is still in place and John Spence is still involved in the staging. It's a big move for the CMAA but we are confident it will confirm the Awards as a major nation TV and entertainment event.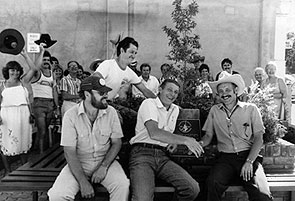 How can you compress the memories and emotions of 30 years in a few words? It's impossible just as it would have been impossible to make it happen without the small number of totally dedicated people who year after year have sacrificed their peace of mind and January for this all-consuming event.
Photo: unveiling of the Awards 10th anniversary plaque next to the Town Hall, January 1982. From left, Nick Erby, John Minson (standing), Max Ellis and Tamworth Mayor Warwick Bennet.
Today you see a fabulous televised showcase for Australian country music but for those of us who have been a part of it, it's been a life time of excitement and apprehension, a hard grind of late nights and never ending weariness, families complaining but still working with us for free, an endless challenge to create a great event on a miniscule budget, a labour of love tinged with despair and glory and above all the opportunity to work with some of the best people in the world.
Let us congratulate the Country Music Awards for lasting 30 long years and salute all those incredible, self sacrificing men and women who have given so much to its' to its creation and development over the past 3 decades.
May the Golden Guitars live forever!