The Story of Australian Country Music
– Slim, Chronicler of the Bush
A Tribute to The McKean Sisters
Arch Kerr – pioneer record producer
Australia's College of Country Music
Brief History of the Golden Guitar Awards
Country Music Capital Meets Music City
History of the College of Country Music
How Tamworth became Country Music Capital
How the College of Country Music Works
INTRODUCTION
Narrative! Narrative! Narrative!
Origins of the Tamworth Country Music Festival
For more information
Contact: Max Ellis
Email info@historyofcountrymusic.com.au
Disclaimer
All matters relating to the conduct of this site remain under the total control of Max Ellis or his nominees who will endeavour to ensure the accuracy and balance of the content and proper conduct of the site but, subject to legal requirements, cannot be held responsible for any digression or non-compliance in respect of these matters.
Introduction
B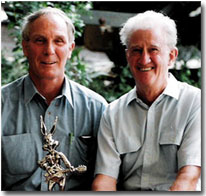 y Max Ellis, creator and manager
of this website (pictured [left] with
"Mr Hoedown" John Minson).
I was born the year Tex Morton first recorded real country music in Australia so my life up to this point has run parallel to the life of Australian country music.
Mind you, I didn't really get involved until the '60s by which time country and western had enjoyed its first bloom and was battling the obscurity forced on to it when rock and roll conquered the world of music. In the years that followed, I was privileged to become friends with virtually all the wonderful people who had created this great Australian art form... among them, Tex himself, Buddy, Smoky, Shirley, Slim and Joy and dozens of other talented singers and songwriters who had a hand in shaping the music we today call Australian country.
For almost 40 years from Tamworth, I played a central role in marketing and promoting Australian country music. For the first 20 years it was as an employee of Radio 2TM in Tamworth, then with Max Ellis Marketing and from 1992 to 2002 with the Country Music Association of Australia. These days I'm on my own again.
In 2000, I was responsible for creating the "Walk A Country Mile" Interpretive Centre in Tamworth which tells the story of Australian Country Music, and this made me aware of how much information about the early days still exists.
I'm starting this website because I believe it is essential to preserve the history of our music before it fades away. There are already many fine books, videos, publications, organisations, and displays concerned with the history of Australian country music.
My objective is not to replace any of these excellent resources. Rather, I want to identify and consolidate our various historical sources and references into one coherent bank of knowledge that is easily accessible to every one.
Not only that, but I would like to see this site work as a means of gathering historical information from every corner of our nation. This will be an interactive site with contributors using it to file irreplaceable knowledge in a safe and public place. It may be personal memories, documents, pictures, articles or anything that contributes to the story of Australian Country Music. So the site will be added to on a regular basis.
I intend working closely with industry bodies like the Australian Country Music Foundation (ACMF) which has been established as a national archive for country music in Australia.
It is my hope that in years to come, artists, musicians, songwriters, industry people, students and Australians generally will be able to find information and insights into the fascinating story of Australian Country Music.