The Story of Australian Country Music
– Slim, Chronicler of the Bush
A Tribute to The McKean Sisters
Arch Kerr – pioneer record producer
Australia's College of Country Music
THE BIG GOLDEN GUITAR
Brief History of the Golden Guitar Awards
Country Music Capital Meets Music City
History of the College of Country Music
How Tamworth became Country Music Capital
How the College of Country Music Works
Narrative! Narrative! Narrative!
Origins of the Tamworth Country Music Festival
For more information
Contact: Max Ellis
Email info@historyofcountrymusic.com.au
Disclaimer
All matters relating to the conduct of this site remain under the total control of Max Ellis or his nominees who will endeavour to ensure the accuracy and balance of the content and proper conduct of the site but, subject to legal requirements, cannot be held responsible for any digression or non-compliance in respect of these matters.
The Big Golden Guitar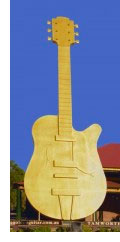 The Big Golden Guitar is an Australian and Tamworth icon, which has been visited and photographed by literally hundreds of thousands of people since it was opened in 1987.
It stands 12 metres high at the southern approach to Tamworth, Australia's Country Music Capital.
It has featured in many film and TV documentaries about Tamworth and country music and has served as a backdrop for quite a number of TV commercials.
It is located at the Golden Guitar Tourist Centre on the southern outskirts of Tamworth adjacent to the Longyard Hotel. The Country Collection building was constructed to house the Gallery Of Stars Wax Museum, which had originally been set up in the CBD by entrepreneur John Smyth in 1983. The Wax Museum was later purchased by business partners Warwick Bennett, a former Mayor of Tamworth and prominent tourism industry figure and Max Ellis who was largely responsible for turning Tamworth into Country Music Capital.
They moved the Wax Museum to its' present location in 1987, calling it the Country Collection and setting it up in conjunction with a souvenir shop and a unique gem and mineral display.
The Big Golden Guitar was built by the partners as another attraction and a very visible indentification on the highway, for the tourist centre. It was constructed of re-inforced fibre glass by Len Surtees of Tamworth Fibre Glass Industries
The Big Guitar is based directly on the famous Golden Guitar trophies for the Golden Guitar Awards. 2TM's John Minson and Max Ellis came up with the original concept in 1972 and detailed design was by Tamworth artist Harry Frost. The Golden Guitars were and are today, cast in solid bronze on a base of polished Tasmanian Blackwood. They stand high 325 mm and weigh 1.5 kilos.
The Big Golden Guitar was modelled directly on the trophy, which explains why it has no strings.
The Big Golden Guitar was officially opened by Slim Dusty and Mr Paul Crombie, General Manager of Tourism NSW, on January 25th 1988.
Since 1998 the expanded Big Golden Guitar Centre has been owned and operated by Wendy and Noel Bennett.
Visit the dedicated Big Golden Guitar website www.biggoldenguitar.com.au.