The Story of Australian Country Music
– Slim, Chronicler of the Bush
A Tribute to The McKean Sisters
Arch Kerr – pioneer record producer
Australia's College of Country Music
Brief History of the Golden Guitar Awards
Country Music Capital Meets Music City
History of the College of Country Music
How Tamworth became Country Music Capital
HOW THE COLLEGE OF COUNTRY MUSIC WORKS
Narrative! Narrative! Narrative!
Origins of the Tamworth Country Music Festival
For more information
Contact: Max Ellis
Email info@historyofcountrymusic.com.au
Disclaimer
All matters relating to the conduct of this site remain under the total control of Max Ellis or his nominees who will endeavour to ensure the accuracy and balance of the content and proper conduct of the site but, subject to legal requirements, cannot be held responsible for any digression or non-compliance in respect of these matters.
How the the Australian College of Country Music works
Max Ellis, December, 2002
"Professional Development for Developing Professionals sums up the Australian College of Country Music perfectly. With a line up of tutors who are all experienced and successful professionals teaching a group of students keen to become professionals its easy to see why it works so well.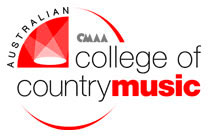 The basis of the course is a curriculum drawn up by a professional educator in conjunction with professional entertainers from the CMAA. And it's not just for singers. Over the years many musicians have graduated from the College too.
Through the 15 days the course runs, the participants go through a gruelling but exciting and stimulating program of training, covering everything from song writing, stage presentation, industry studies, studio recording, instrument training and concert performance. While many students are already proficient artists working as part time entertainers, others are just entering the field. There are two main qualifications. Firstly students must be over 17 and secondly they must be enthusiastic about their music. If they are not, its doubtful if they would survive the full on, days and nights, when they eat sleep and live country music.
On arrival at Calrossy the 21 students who have passed the rigorous selection process, are split into three groups of 7 and allocated a tutor. This tutor will work with the group through the whole duration of the College, getting to know the students and leading them through the course. Everyone comes together every morning for lectures before separating into their own groups in the afternoon.
That's when the practical work is done. Each group is required to compose, arrange, rehearse and record a number of original songs that they can present on stage at the College Graduation Concert.
Towards the end of the course the groups take it in turns to visit a local recording studio where under the watchful eye and ear of Garth Porter or some other industry professional, they put down a couple of their selected tracks. When you hear the originality and quality of these recordings you can't help but be amazed, especially when you know it's all been conceived, written, rehearsed and recorded entirely in 12 days. This is hands on training for real life!
Most nights there are Master Classes with top musicians like Rod McCormack, Lawrie Minson, or Stuart French or vocalists like Gina Jeffreys helping out. And on top of all this many stars take the opportunity to drop in and offer a word or two of practical advice, people like Adam Brand, Nash and Kasey Chambers, Jim Haynes and Tania Kernaghan as well as the industry's leading business and promotional people.
At the Graduation concert the Tutors stand up there with their students and it's hard to see which group is the proudest. As the students receive their CMAA certificates and their TAFE Statement of Attainment it possible to see something of the transformation that has occurred. They came to the College as would like to be stars and they are leaving, as could be stars. But whatever their ultimate destination, they will never forget the incredible personal growth they've experience and doors that have been opened to them at the CMAA Australian College of Country Music.
> > > > >
Since 1997, the College has turned out some 189 graduates, all with a TAFE Certificate of Proficiency and a CMAA Graduation Certificate. Perhaps more importantly than the actual pieces of paper are the intangible benefits the graduates take away with them.
Most of the students are already proficient instrumentalists and performers, when they arrive, often with a wide experience on stage.
They leave the College with new skills in song writing and performance. They also leave with a close associations with others from their group which, often develops into professional relationships and life long friendships.
From the edge of the music industry, they suddenly find they have a close contact with some of top professionals and industry shakers and movers and this networking can open doors in a most spectacular way as many have discovered.
But probably the most important thing is the immense boost in confidence, poise, positive attitude and indeed professional attitude the graduates achieve. Most come uncertain about their future prospects in music. Most leave knowing exactly what they want. Inspiration is a word they often use.
In general terms the CMAA has achieve a major result with the College and the pressure is now on to see what can be done to expand and develop the project for the benefit of more of our "Developing Professionals".
For more information, visit www.country.com.au or telephone 02 6766 1577.