The John Minson Story
The legend of "Mr Hoedown" was born in 1967 when John Minson changed the name of his Radio 2TM country music program to "Hoedown".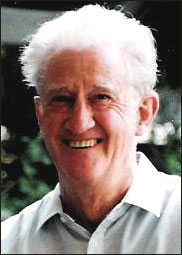 Through the following years as the program grew, John was to become known far and wide as "Mr Hoedown".
John Edgar Minson came to Tamworth with his wife Ann in 1961 working as an announcer/copywriter at 2TM and briefly at sister station 2MO in Gunnedah.
The country music program John hosted was one of a number born out of the need for changes designed to meet the challenge of television which commenced in Tamworth on April 10, 1965, and took away most of the station's night-time (then prime time) advertising revenue.
(A little known fact is that, for a time, John operated a puppet called "Mr Zoom" on the local TV station's afternoon children's program, quitting the copy desk to walk over to the TV studio carrying "Mr Zoom" each afternoon then returning to the radio station to finish the day's copywriting!)
Previously, John had hosted a weekly country program – The Modern Sounds Of Country Music – on Saturday mornings taking over from Canadian Ken McEwan after he returned home to Canada in 1965.
The half-hour night-time session became so popular it was extended to an hour. At this time, 2TM had (and still has) a clear, omni-directional transmission frequency (1290 kilohertz then, 1287 kHz now). This meant it went out in every direction, without interference from other stations.
The show was discovered by listeners in far distant locations – as far as Tasmania and New Zealand in the South, most of Queensland, parts of South Australia, even the islands of New Guinea. Request mail came in, and a strong demand for more time. By the late '60s, Hoedown was so popular it was running from 7.30 to 11 and 2TM became the first station to be playing country music every weeknight.
Part of John's success as Australia's first full-time country music broadcaster was the fact that unlike so many other broadcasters of the day, John preferred to play Australian music, giving exposure all over the nation to country artists who were battling to be heard. For many of them, airplay on Hoedown became their key to success.
Of equal importance was the informal approach, where artists, musicians and fans always felt they could drop in on the program any night for a chat and a cuppa: be that at home beside the radio or in the on-air studio. Listeners liked the fact that John always talked "with" people not "to" them.
Such was his country style personality. In fact, John was not a country boy! He was born at Waverley, NSW, attended Sydney High School and in his youth became a Bondi surfie (he even made surfboards!). However he did spend many of his holidays on a family property in the Brindabella ranges near Canberra, soaking up all the aspects of bush life.
By the mid 1960s, John, with his wife Ann, was heavily involved with the early amateur country music club movement in Tamworth; eventually being made a life member of the city's Capital Country Music Association.
He has been a tireless worker for the industry both amateur and professional, even as a composer with a number of songs recorded, including one by Buddy Williams (The Mighty Moonbi Range).
In 1969, 2TM decided to build an art union prize home for charity, known as "The House 2TM Built" (with project organisers Kevin Knapp and Max Ellis). To sell more tickets they staged a live country show in the Tamworth Town Hall using "Hoedown" to promote the event. Reg Lindsay headlined and "Hoedown" broadcast from the foyer of the Hall.
It was a sellout success. Patrons received an art union ticket for their admission charge. Some fans travelled great distances, and all asked when another show would be staged.
By the late '60s it was becoming apparent that country music offered big possibilities for 2TM and Tamworth and in 1969, John was one of the group at the radio station who launched the Tamworth, Country Music Capital, concept.
Another promotional opportunity came in 1970 with the "Bi-centennial of Captain Cook's landing". This Show was billed as A Celebration of Australian Country Music with the greatest ever assembly of Australian country talent. Many of the artists had never before played together. It was an historic occasion with Slim Dusty sharing the stage with Smoky Dawson, Shirley Thoms, Billy Binkhorn and many other pioneers who came out of retirement for the occasion.
For the next two years, 2TM staged regular country shows, which not only drew John closer to his audience, but also to the record labels who welcomed the opportunity to promote their artists. He developed a strong rapport with major label executives and when EMI star Johnny Ashcroft suggested a 2TM promoted awards, John played a major role in selling the idea to the record industry. As a result the first 2TM Australasian Country Music Awards were staged on the Australia Day holiday weekend in January, 1973.
Another of John's talents was in wood and metal working. He was involved in creating the original design concept for the famous Golden Guitar trophy that was later hand-crafted by local artist Harry Frost. Until he left 2TM in 1987, John did all the detailed preparation of the castings and wooden bases for the famous Golden Guitar trophies.
Over 20 years during this period, John designed and built the custom JEM pedal steel guitar. He was also involved in the Steel Guitar Convention in Tamworth. A superb craftsman, John also refurbished tour-battered guitars for many artists including Buddy Williams.
Besides his heavy involvement in broadcasting and writing (especially historical articles) for country music publications, John always found time to play harmonica on studio recording sessions, particularly during the '70s and '80s when he led the pioneering push for the bush ballad harmonica sound.
Famous harmonica manufacturer M Hohner of Germany recognised his talent and promotion of the instrument with a special citation.
In 1983, John helped instigate the Harmonica Championships held each year now during the Tamworth Festival in January.
His first EP for Hadley Records was made in 1971. The four instrumental tracks included two of his own compositions: Calala County and The Real McCoy.
A chance remark by the Singing Kettles trio that a harmonica would sound good in their up-coming recording of Little Green Valley prompted John to volunteer. Further sessions followed for the Hadley and CM labels, then in 1972 Slim Dusty offered John a session at EMI in Sydney.
This led to a long association with Slim and recording artists Rick & Thel Carey, Buddy Williams and Johnny Ashcroft, as well as regular sessions at Tamworth's Hadley Studio, who suggested he record a four track instrumental album. This allowed him to further his crusade for instrumental recordings of Australian country songs. One of the numbers was Slim Dusty's Rain Tumbles Down in July. In 1979, he recorded a family album for CM Records in Dubbo NSW.
In 1978, John was presented with the Country Music Capital Award for services to the industry, both music and media. For many years he was on the judging panel of the annual Golden Guitar awards. In 1987, he retired from full-time work.
In 1988, John was elevated to the Country Music Roll of Renown. In 1998, he received an AM for services to the music industry.
For more than 30 years, John Minson, played a vital role in helping to establish country music as a legitimate and important part of Australia's heritage. John's enormous enthusiasm, his tireless commitment, his encyclopaedic knowledge, his multitude of skills and his genuine interest in, and love of, his fellows, played a vital part in establishing Tamworth as Country Music Capital and the Australian country music industry itself.
John died on March 10, 2017, in Coffs Harbour, and is buried in Tamworth. Though he has now left us, his name will always be remembered by our artists, industry and fans of country music all over the nation. Australia salutes, the legendary, Mr Hoedown – John Minson!