TAMWORTH
MILESTONES (NEW)
The Story of Australian Country Music
– Slim, Chronicler of the Bush
A Tribute to The McKean Sisters
Arch Kerr – pioneer record producer
Australia's College of Country Music
Brief History of the Golden Guitar Awards
Country Music Capital Meets Music City
History of the College of Country Music
How Tamworth became Country Music Capital
How the College of Country Music Works
Narrative! Narrative! Narrative!
Origins of the Tamworth Country Music Festival
For more information
Contact: Max Ellis
Email info@historyofcountrymusic.com.au
Disclaimer
All matters relating to the conduct of this site remain under the total control of Max Ellis or his nominees who will endeavour to ensure the accuracy and balance of the content and proper conduct of the site but, subject to legal requirements, cannot be held responsible for any digression or non-compliance in respect of these matters.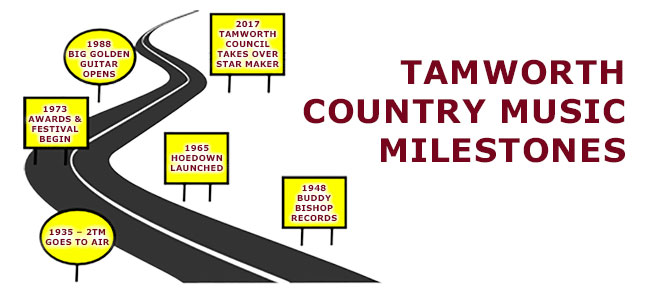 Significant dates in Tamworth's country music history in chronological order with a brief comment and date of the event or feature.

This is a work in progress. If you believe additional information should be included, errors corrected or changes made, please contact the author: Max Ellis gmaxellis@icloud.com

For more information on Australian or Tamworth country music history, please refer to other pages here at historyofcountrymusic.com.au or to "Stars, Hurrahs and Golden Guitars" by Max Ellis, available from Fairfax Rural Events via this link.

An important adjunct to this feature is a rundown of who was involved in the early days of Tamworth's country music development. Click here more...

Last updated, December 2017

In the beginning...
---
1935

February 27. Radio 2TM goes to air, started by Ernest Higginbotham and Tom Whitcombe. In its first decades, 2TM played country music (or. as it was known then, hillbilly or country and western) during it's early breakfast programs (so called "music to milk" by!) or in their lunchtime Hillbilly program. In October 1959 the station moved to its present location at Radio Centre, Calala. 2TM's modern country music history was launched with a Saturday morning program (The Modern Sounds of Country and Western) presented by Canadian Ken McEwan who left the station in 1964. It was taken over by copywriter, John Minson.

2TM's modern country music history was launched with a Saturday morning program (The Modern Sounds of Country and Western) presented by Canadian Ken McEwan who left the station in 1964. It was taken over by copywriter John Minson.

After the introduction of television to Tamworth on April 10, 1965, radio audiences plummeted. In late 1965 the country music program was moved to an evening time slot (7.30pm Thursdays) and re-named Hoedown (by 2TM announcer Brian Anderson). As the audience grew it was expanded to five nights a week and in 1981 networked to 4WK, Toowoomba. Hoedown's success laid the foundations for the establishment of Country Music Capital, the Golden Guitar Awards, Tamworth Country Music Festival and ultimately to the development of a genuine Australian country music industry which had never really existed before.

1945

June 2. Buddy Bishop performs live for the first time on Radio 2TM's lunchtime program.

1948

March 28. Buddy Bishop becomes the first person in Tamworth to record country music when he cut two tracks at 2TM. "When A City Guy Went To The Farm" and "When The Roses Bloom In The Garden".

1949

Ex Farrer schoolboy Arthur Blanch wins Australia's Amateur Hour after singing around Tamworth and on 2TM. Amateur Hour on the radio is the equivalent of modern programs like Australia's Got Talent and The Voice.

1950

January 20. Buddy Bishop becomes Tamworth's first national recording artist when he records his most famous and popular song "When The City Guy Went To The Farm" (or as it was generally known, "The Farmyard Yodel") and three other tracks for the John Mystery label at The Record Centre in Pitt Street, Sydney. The other songs were "Spitfire The Outlaw", "When The Roses Bloom In The Garden" and "Honeybee, My Honeybee". Buddy was one of the artists on the historic 2TM Captain Cook Bi-Centennial Concert in 1970. He died on April 13, 1995.

1954

November 26. The Slim Dusty Show on its first tour visits Tamworth. Joy recalls: "We showed Tamworth on this, our first tour. If my memory serves me correctly, we had a dreadful house, too. This was about the time I had to ring Mum for money to get us home."

1961

January 16. John and Ann Minson arrive in Tamworth from Sydney. John worked at 2TM and 2MO as a copywriter, later becoming country music's renowed "Mr Hoedown" on 2TM, while Ann later played an active role in the CCMA.

1964

October 15. Tamworth branch of the Brisbane based Modern Country Music Association (MCMA) forms. First President Ross Murphy; Vice President John Minson, Secretary/Treasurer Bette Frey and Committee Members Nev and Nancy Sipple. Later to become the Capital Country Music Association (CCMA).

1965

2TM's "Hoedown" launched by then 2TM Station Manager Kevin Knapp. Kevin later became compere of all the early Golden Guitar Awards. Previously, he had worked at 2LM Lismore and had been involved in that station's "Radio Ranch" show (he was "Hotfoot"!).

1966

December 24. The first MCMA/CCMA charity concert held at Southgate Shopping Centre (sponsored by the Centre's pharmacist, Charles Skaffe).

1967

In February, 2TM and the MCMA stage a Tamworth Town Hall concert to raise funds for Tasmanian Bushfire Relief with 65 artists and 11 musicians on the bill.

1968

Tamworth based Geoff Brown (pictured) records for RCA. He was a powerful influence and inspiration in the Capital Country Music Association and he later recorded on Hadley. He died, Augist 20, 2000.

December, Eric and Hilary Scott move to Tamworth. They opened Hadley Studio in their Calala home in 1970. Hadley moved to its new studio in Egret Place in 1976 and closed in 2005. The studio was taken over by Steve Newton and his Enrec label in 2009.

Angelwood Studios owned by Peter Sheedy, opens at Currabubula near Tamworth.

1969

Ross Murphy of Tamworth and Ken Cameron of Dubbo, form CM Records (Cameron and Murphy), using 2TM's "tin shed out the back" as a makeshift studio. First recording on November 15 was John "Doc" Riley. The partnership was later dissolved with Ken retaining CM in Dubbo, while Ross continued in Tamworth with Opal Records.

May 23. The House That 2TM Built Charity Art Union promotion ran a concert in the Tamworth Town Hall starring Reg Lindsay. Entry was by the purchase of a $1 ticket in the fund raising art union. It was the first CM concert organised by 2TM itself. Other concerts followed with Tex Morton, Slim Dusty, Johnny Ashcroft, Jimmy Little and others with the motto "Worth Driving 100 Miles To See".

October 4. 2TM's Slim Dusty Concert in the Town Hall features a spectacular huge papier-mâché bullock's head, suspended high above the stage with fluorescence, which glowed when the lights were dimmed! Stage by Barry Harley.

Colin Munro presents "What Is This Country Music" on ABC TV's "Big Country" program. It prominently featured Slim Dusty and Tamworth.

November 7. Jimmy Little Show staged in the Town hall.

November/December. "Country Music Capital" proclaimed after a 2TM group of Warwick Higginbotham, John Minson, Eric Scott, Kevin Knapp and Max Ellis came up with the concept which had originally been floated by Eric. Max came up with the name.

The only known photo of the entire group of Country Music Capital founders together, from left. Warwick Higginbotham, John Minson, Max Ellis, Eric Scott and Kevin Knapp. Pictured during the 40th anniversary Tamworth Country Music Festival with industry legend Joy McKean and the very first Golden Guitar ever presented.

1969

December 31. 2TM stages a New Year's Eve concert with Lionel Long on Number 1 Oval, only to be washed out and moved to the St Andrews Hall.

1970

January 24. The MCMA Talent Quest and Jamboree in the Town Hall stars Dee Donovan – 34 artists took part including the young Emmanuel Brothers, Tommy and Phil.

April 25. The historic Australian Bicentennial Concert staged by 2TM in Tamworth Town Hall. It was compered by John Minson (pictured) and starred in order of appearance, Bob Clark, Trevor Day, Buddy Bishop, Shorty Ranger, Shirley Thoms, Shorty Ranger, Smoky Dawson, Gordon Parsons, Smilin' Billy Blinkhorn, Slim Dusty and Joy McKean, Barry Thornton and songwriter guests Joe Daly, Wave Jackson, Stan Coster and "Mac" Cormack. For both Smoky and Shirley this concert was a re-launch of their careers.

Vampire aircraft erected in Hands of Fame Park (originally CWA Park). Refurbished in 1993. Adjacent 2YOUFM Memory Capsule buried in 1986 for opening in 2062

1971

February 27. Radio 2TM celebrates its 36th anniversary with a Country Music Concert in The Town Hall. The concert starred Johnny Ashcroft, and he was presented with three Gold Records. He then asked, "Why don't you present more awards like this for all Country Music artists?". Later this idea contributed to the creation of Tamworth's famous "Golden Guitar Awards".

May 25. 2TM Show starring Tex Morton with the Hamilton County Bluegrass Band.

June 14. Capital Country Music Association (CCMA) forms out of Tamworth branch of the Modern Country Music Association (see above). President Brian Kelly, VP Ross Murphy. First CCMA branded Jamboree, January 1972.

October. Eric Scott (backed by businessmen Tony Moroney and Peter Pulley) publishes bi-monthly Country Music Express newspaper. Initially a tabloid it became a quarterfold from February 1973. Eleven issues published with the final edition Vol 2 No 5. in June/July 1973.

1972

March. "Redback on the Toilet Seat" by Slim Newton released on Hadley label as an EP (extended play record). It went on to sell over 100,000 units, winning Best Selling category at the first Country Music Awards in 1973.

May 25. American star Red Sovine of "Phantom 309" fame performs to 50 people in Tamworth Town Hall. Tickets $2.50.

May 26. 2TM Jimmy Little Show staged in the Town Hall.

Big T Jubilee, a live 2TM radio show presented by Eric Scott, starts from Hadley Studios. Goes to air on 2TM, 3MA, 4CA and 7LA and runs for 13 months. First show featured the then unknown Slim Newton singing "Redback On The Toilet Seat".

October 5. Slim Dusty records "Live In Tamworth" in the Town Hall. Produced by Eric Dunn, it won Album of the Year in January 1974.

1973

Sunday, January 28. The first Australasian Country Music Awards staged in Tamworth Town Hall. The live broadcast compered by Kevin Knapp (pictured) and sponsored by Insulwool for $45! Joy McKean (who was the very first Golden Guitar recipient), Slim Dusty, Slim Newton, Col Hardy and the Hamilton Country Bluegrass Band were winners with Shirley Thoms, Smoky Dawson and George Dasey the presenters. In 1980 the Awards Moved to a Big Top on Number Three Oval, 1983 to Jakab Ambulance Factory, 1985 The Workmens Club, 1986 Tamworth High School, 1988 Calrossy Auditorium, 1992 various venues, 1993 Don Willis Showground Arena and in 1999 to TREC.

1974

Eric Scott starts broadcasting a country music program on the ABC. This one hour program "Country Music Express" continued for 15 years and was carried by Regional ABC Networks. A separate program on Radio Australia also ran for 12 years.

Hoedown extends from 7.30pm to 11pm Monday to Friday on 2TM.

Pedal Steel virtuoso Norm Bodkin and star guitarist Lindsay Butler move to Tamworth.

February. Tamworth's Deniese Morrison (pictured) signs with Ron Tudor's Fable label in Melbourne. She was recommended by John Minson and Max Ellis and was then "discovered" by Ron at the Festival. She later released "No Charge" on Fable and went on to win three Golden Guitars during her long career.

Tony Tapp moves Silver Spur Studio & Sound Hire business to Tamworth.

April. US superstar Buck Owens visits Tamworth with the fabulous Buckaroos featuring some of America's top country musicians, Don Rich, Ronny Jackson, Jerry Wiggans, Doyle Singer, Jerry Brightman, Susan Raye (then riding high with her hit "LA International Airport"), Buck's son Buddy Allen, Tony Booth and manager Jack McFadden. It was 2TM's first big international show and the station pulled out all stops to make sure it was a success, filling the Town Hall with two shows.

Peter Sheedy's Angelwood Studios of Currabubula sign an agreement with WEA to become the company's country music label.

1975

2TM signs Wrangler Jeans to become the first major sponsor of the Awards. They stayed until 1977 and gave Country Music Capital Award winners a free trip to Nashville.

January. First Capital News published by 2TM as an annual quarter fold newspaper for the Festival, before expanding to a tabloid in the 1980s. The first cover featured a picture by Max Ellis of John Minson in a top hat and tails, complaining he wouldn't go to the Awards unless he could wear his Wrangler (the Awards sponsor) shirt. In 1981 under the editorship of Jazzer Smith it became a monthly publication. It was acquired by Rural Press in 1996 and became a glossy magazine in October 2000.

1976

January 26. First recipient of the Australasian Country Music Roll Of Renown, Tex Morton, named at the Awards in the Town Hall. December 11, 2TM set up rocks for the Roll of Renown at 2TM with unveiling of Tex's plaque in January 1977. Originally plaques featured sculptured faces but these were replaced with photographic representation after a couple of years. The 30 stones placed on the front lawn at 2TM came from Fielders Farm at Kootingal. In September, 2000, the physical Roll was transferred to the front of TREC. After 2TM withdrew from country music in 1996, the Roll was administered by the ACMF until 2015 when it was handed to an independent selection panel set up by Tamworth Regional Council with the announcement and presentation returning to the Golden Guitar Awards.

July 19. January Country Music Month Promotion Committee set up by 2TM in Sydney with Nick Erby, Joy McKean, Eric Scott, Ron Hirst, Dave Douglas, Wayne Atkinson, Kevin Knapp and Max Ellis Chairman. The organisation ran a national promotion each year with radio jingles and competitions promoting "January is Country Music Month". First jingle was by the Hawking brothers followed by a jingle from Canberra by Chris Burchett and Steve Avery. The Country Music Month Promotion Committee later became Country Music Australia and included Max Ellis, Nick Erby, Terry Howard, Joy McKean, John Williamson (pictured), Eric Scott, Kevin Knapp, Frank Donlevy, Barry Forrester and David Douglas. Later board members included Heather McKean, Peter Harding, Kevin Ritchie and Keith Hitchcock.

First moves to set up Australian Country Music Development (ACMD) formed by 2TM, NEN and other investors interested in the commercial opportunities of Tamworth's country music reputation. Its first AGM was in March 1977. Max Ellis (pictured) was the Chairman. It was floated publicly on February 2, 1978. ACMD started The Ticket Box in Tamworth Arcade and bought land at Kootingal for a theme park to be called Music Mountain. This was later shelved and the company purchased, in May, 1982, the Alandale Motel which it renamed The Musicland Motel. ACMD refurbished the motel and built the famous Flag Guitar Pool, which was opened by Slim Dusty in January 1983. The motel was ultimately sold to Television New England.

July. John Minson records a radio special in Sydney with Slim Dusty.

August 11. Charley Pride does two shows in the Tamworth Town Hall.

November 12. Geoff Brown Showband debuts at the Workmens Club.

November 22. Elbo Music opens above Asseffs Menswear in Peel Street. Owned by Max Ellis and Norm Bodkin and managed by Norm.

1977

January 30. Roll of Renown, on the lawn in front of 2TM, unveiled with first honouree Tex Morton.

2TM/Country Music Australia (CMA) take the Geoff Brown Showband to perform in Martin Place, Sydney, before a huge crowd as a promotion for CM and Tamworth.

January 30. Eric Scott's new Hadley Record studios opens in Egret Place, Calala.

The Ticket Box opens in Tamworth Arcade with Peter Harkins (later of Cheapa Music). John Sweeney became manager in the 1980s.

August. The syndicated National Country Music Jamboree starts with Nick Erby. It was based on another syndicated program distributed on behalf of the Modern Country Music Association by Ray Rumble and subsequently on a program of the same name produced and distributed by Radio 2TM and compered by Phil Corbett. NCMJ peaked with 67 stations. Nick Erby's Country Music Jamboree continued for 20 years until 1997.

In 1995 2TM became part of Bill Caralis' Super Radio Network and Hoedown's name was changed to CMR (Country Music Radio) and broadcast across the network at weekends. At the beginning of 2000, CMR was dropped by the network. From Christmas 2003, Nick Erby was contracted to program CMR for the Super Network stations on Saturdays and Sundays with Brian Howard handling the after midnight shifts and Nick on air between 6pm and 12 midnight. In 2008, the Super Network lost interest so Nick decided to move on. CMR's last broadcast on the Super Network was Sunday August 17 2008. CMR.com.au online continued the tradition until Nick's retirement in 2015.

1978

January. The Australian Country Music Hands of Fame cornerstone unveiled by 2TM, situated in a small park, then known as CWA Park after the adjacent Country Women's Association building. The Vampire aircraft was placed in the park in 1970. The original masonry segment of the Hands of Fame cornerstone was built by 2TM in 1977. The first "hands" imprinted on January 29 were Tex, Buddy and Smoky. Slim and Joy were imprinted later the same day. Initially the ceremony and selection was handled by 2TM. After 1996 ACMF took over responsibility of "the Hands" on behalf of Tamworth City Council. Trevor Smith was originally responsible for cement imprinting and Lorraine Pfitzner was "Keeper of the Hands" for the early years. To 2017 there are 327 imprints of individuals, bands or duos.

Friday January 27. The first 2TM Buttercup Open House staged in the Town Hall. While John Minson chatted on air with country music luminaries and fans in the Small Town Hall, 2TM's Bob Lipman kept things moving on stage. After his retirement in the mid '90s, Bob was followed by other radio identities, Brian Howard until the late '90s, followed by Jon Farkas (later Wolfe), Paul Rowe and, from 2006 to 2012, Kevin Anderson. There was no door charge and it was estimated (in 2008) that some 65,000 fans (including many regulars) enjoyed long time sponsor Buttercup's hospitality. During that time it's estimated there were almost 1,000 individual performances on stage. Rural Press Events took over the event from January 1996. It ran on Wednesday and Thursday nights of the Festival and was discontinued in 2012 when Buttercup pulled out.

January. Tamworth Songwriters Association formed by 2TM at the Tamworth Mechanics Institute. Johnny Ashcroft was its first President with Brian Kelly, Secretary. George Dasey came up with the slogan "First The Song" while Barry Harley created the logo.

The free Mr Juicy Concerts run by 2TM start in Hands of Fame Park. They later were, and still are, sponsored by Coca Cola.

January 25. A Prospectus was issued for Australian Country Music Development Pty Ltd.

BAL Marketing (from 2TM/NEN group company name Broadcast Amalgamated Ltd) was set up to work full time on the organisation of the Ag-Quip field days and the station's country music activities. It was established as a Marketing Division of Radio 2TM and the first General Manager was Max Ellis, followed in 1984 by Barry Harley and then Jim Hynes. It was sold to Rural Press in 1995 becoming Rural Press Events and later Fairfax Rural Events (in 2016). All Fairfax country music assets were sold to Tamworth Regional Council in 2017.

1979

October 28. First 2TM Star Maker Quest won by Grand Junction (pictured) from finalists Trica Axon, Cundle Town, Dead Livers, Sharon Fleming, Ray Griffiths, The Images, Lee Kernaghan, Tommy Miller and Sweet Feelin' and sponsor the NSW Building Society. It was moved to its new January date in 1985. Top 10 finalists changed to top 20 in 2008. Famous winners include James Blundell (1987), Beccy Cole (1993), Travis Collins (2004), Gina Jeffreys (1991), Lee Kernaghan (1982), Samantha McClymont (of The McClymonts, 2005) and Keith Urban (pictured, 1990). It moved to TREC in 2000, back to the Town Hall in 2015 and is now staged on the main Friday of the Tamworth Country Music Festival in Bicentennial Park (renamed Toyota Park for the duration of the Festival).

1980

January. The Country Music Cavalcade launched by Tamworth's Chamber of Commerce under the direction of Bob Kirchner (having been conceived originally by a 2TM formed committee chaired by Patrick Maher). In 2010, the Chamber came to an arrangement with Tamworth Regional Council to run the Cavalcade.

January. The Awards held in the 2TM Big Top on number three oval for the first time, seating more than 4,000 people. It was also the first Commonwealth Bank sponsorship. Initially the tent was hired from Perth Media company, TVW, in 1979. In 1981 it was bought by 2TM and used again in January that year, when a storm caused problems. In 1981 it was hired by the Billy Graham Crusade in Sydney and erected at St Ives Showground with 7,000 seating. It was at that time the largest covered venue in Sydney. 2TM later sold the tent to John Wright of Wright Hire and it blew away in a storm in Tasmania some years later.

1981

Charlie Daniels comes to Tamworth performing on the Awards with Pixie Jenkins.

January. First Fiddle Championship staged in Town Hall. The first champion, Mike Kerin, later famous as a part of the Travelling Country Band and as a soloist.

Syndicated newspaper column "Captain Country" started by BAL Marketing but it ran for only a few months.

February/March. Capital News becomes a monthly tabloid newspaper under the editorship of Jazzer Smith (pictured).

June. The Country Music Awards represented at the "International Country Music Awards" at Fort Worth, Texas, featuring Golden Guitar winners Jewell Blanch, Bullamakanka and Johnny Chester.

July. Drummer Ken Ramsay killed in a plane crash 40 kms north east of Oodnadatta in SA. Pilot Kurt Schenk also died. With Ramsay on the Brian Young tour were Steve Bunz and Roger Knox.

November 22. Brilliant young musicians, Glen Green and Eric Newton, both of whom worked at 2TM, killed in a car accident on the Gunnedah Road at Appleby Lane.

Eric Watson moves Selection Records to Tamworth where it stayed until he moved back to his family property near Casino a couple of years later.

Hoedown begins live broadcast through 4WK Toowoomba, five nights a week.

1982

Byron Berline and Vince Gill guest judge at the National Bluegrass Championships.

January 30. The Hawking Brothers Memorial opens in the garden of The Settlers (now Country Capital) Motel on Goonoo Goonoo Road. Erected by 2TM, it was dedicated by the Hawking Brothers Fan Club and commemorates the achievements of Alan and Russell Hawking from the band's formation in 1950.

Lou Farina Musical Director of 82 Awards.

January 17. The Festival Rodeo started by BAL Marketing on the first Saturday of the Festival, sponsored by The Commonwealth Bank. Originally it was run for BAL Marketing/2TM by contractor Garry McPhee on the Tamworth Showground. Later it was taken over by what is now the ABCRA (Australian Bushman's Campdraft & Rodeo Association) and extended to a week of activity. In 2009 it moved to the new AELEC (Australian Equine & Livestock Events Centre).

10 Year Awards Anniversary plaque unveiled by Mayor Warwick Bennet and Awards CEO Max Ellis next to the Tamworth Town Hall.

First live satellite broadcast of the American CMA Awards from Nashville to 2TM.

Telecom carries a Tamworth Heart of Country Music cover on the local directory with a montage of colourful pictures including John Minson, Mark Collins, Glen Green and Paul Lester and and the Big Golden Guitar.

Country Man records established by BAL Marketing, Capital Communication (Nick Erby), Keith Hitchcock (ex RCA) and Tony Barber (Edels Music). Countryman released LPs by Allan Caswell, Alan Hawking, Deniese Morrison and Digger Revell. Golden Guitars were won in 1983 by Alan Hawking (Instrumental of the Year with "Back To Those Rolling Plains") and Allan Caswell (with Keith Potger, Song of the Year with "Used To Be A Gold Song").

January 21. Tex Morton's historic last major Concert in the 2TM Big Top on Number 3 Oval. Tex died July 23, 1983.

"Must Be Country" TV show weekly series starts on NEN 9 Tamworth directed by Adrian Payne with host Terry Gordon. Lou Farina was MD. It ran for 26 episodes.

"The Winners" – a double vinyl album commemorating the 10th Anniversary of the Country Music Awards – released by 2TM on RCA Records. In 1993 the CMAA released the first of "The Winners" CDs, a double compilation of winners and finalists in the Golden Guitar Awards. This series still continues.

Tamworth Songwriters Association (TSA) Songmaker's Salute established at Southgate Shopping Centre. In 1994 it was transferred to the Tourist Information Centre where it was officially unveiled by Gough Whitlam on January 26, 1995. There are 26 plaques (2017).

1983

January Awards move to Jakab Music Factory with the co-operation of owner Peter Botfield.

January 29. Guitar Pool at Musicland Motel (later Allandale now Sundance Park) opened by Slim Dusty. Built for Australian Country Music Development Limited.

Wax Museum opened by John Smyth above Treloars Menswear on the corner of Brisbane and Peel Streets. The 20 figures were made in Nashville by the Seigerthaler family. Launch promotion was staged in Martin Place, Sydney, 12/9/83. The Wax Museum later became The Country Collection owned by Warwick Bennet and Max Ellis (subsequently purchased in 1999 by Wendy and Noel Bennet and then by Tamworth businessman Tom Coulton in 2010).

February 26. First meeting of The Tamworth Country Centre. The local company started raising funds in Tamworth. Later it became a public company, Centrepac Limited. Initiated by John Smyth with associates Arthur Dew, Max Ellis and Charles O'Neill, Centrepac built the Longyard Hotel, which opened 17/03/1985, the Greg Norman designed Golf Course (in 1988) and Britten's Brewery, opened January 22, 1988, before acquiring several Sydney hotels and building the Pumphouse Brewery and restaurant at Darling Harbour in Sydney. In November 1988, after the 1987 financial turmoil, the Sydney assets were sold to Hastings Deering Pty Ltd while the Tamworth assets were sold to local interests.The brewery was sold to Carillon (the public company holding the media (and other)assets of 2TM's Broadcast Amalgamated Ltd). In 1989 the Brewery was convertedto retail/officepremises and taken over by the Douglasfamily when they bought The Longyard Hotel in 2011.

Steve Newton and Ed Matzenik (pictured) establish Enrec Studios in a building in the then Myer storage building on Johnston Street, North Tamworth, and later to a site on the Manilla Road. Enrec recorded and released around 180 titles. In 1993 Steve moved Enrec to a new location at Kurri Kurri. Enrec returned to Tamworth in 2009. Enrec was named in memory of Steve's late brother, guitarist Eric Newton. Later Enrec moved to Sydney and in 2009 Steve Newton returned to Tamworth, taking over Hadley Studios in Calala.

1984

Torrential rain drowns out the Awards sound in the Jakab "Music Factory". Floods cut Tamworth in two.

January. Hadley Records produce their first completely digital taped masters.

Gary Robertson opens Axiom Enterprises booking agency in Tamworth.

1985

January 21. Jazzer Smith and Keith Blinman's "Book Of Australian Country Music" launched.

July. Australian Country Music Development taken over by a share exchange with Television New England.

Longyard Hotel built by Tamworth Country Centre Pty Ltd (later Centrepac Limited), run by June and Don Smyth, opened by Ted Egan March 17. It was named after a Kelly Dixon song "Leave Him In The Longyard" (stock route).

January 26. The Winners Walkway opens in Treloar Arcade between Brisbane Street and Kable Avenue when it was re-developed by Arthur Dew. In 2000, the plaques were transferred to Peel Street. The main plaque is situated on the corner of Peel and White Streets (on the southern or river side of the street) with the yearly plaques set in the brick paving at intervals down Peel Street into the second block (they currently do not go past the 2003 winners).

January 26. Slim Dusty unveils his effigy in the Gallery Of Stars. His figure completed the 20 wax stars which were sculpted in Nashville by Jerry Seigenthaler at a cost of more than $100,000.

1987

May 30. Tamworth personality and writer Jazzer Smith dies in Melbourne from cancer.

October 9. John Minson retires from Hoedown on 2TM with Nick Erby moving to Tamworth to continue the program until 2TM axed it in 2003. Nick re-commenced Country Music Radio in 1997 on the 2TM network but this ceased in 2008 and was re-established for a time on the internet CMR.com.au

The Longyard Golf Course under construction by Centrepac Limited.

1988

January 21. The Country Collection started by Warwick Bennet and Max Ellis. They acquired land adjacent to the Longyard Hotel from Centrepac in 1987 purchasing The Wax Museum, which had been established in 1983 by John Smyth and had been acquired by Centrepac in 1984. They also set up a fine display of gems and minerals collected by Warwick Bennet's father Gil. Housed in a new building the wax museum and rock collection was officially opened by Slim Dusty and General Manager of NSW Tourist Commission Paul Crombie on January 22, 1988. When the business was sold to Tom Coulton, the gem and mineral collection was transferred to Tourism Tamworth and moved to Nundle in February 2009.

January 21. Monika Allan publishes her milestone book, The Tamworth Country Music Festival launched at the Longyard Hotel by John Williamson.

The Big Golden Guitar, a part of the Country Collection attraction, built by Max Ellis and Warwick Bennet, unveiled by Slim Dusty on January 22. The 12 metre high fibreglass guitar was designed as a tribute to the original Golden Guitar trophy which explains its lack of strings. Construction was by Len Surtees. The building and the wax figures were sold to Noel and Wendy Bennet in 1998 and the gem and mineral collection transferred to Tourism Tamworth and set up in Nundle in February 2009. Noel and Wendy later sold the operation to Tom Coulton. Caroline Singleton was appointed Manager.

January 30. The Golden Guitar Awards move from Sunday to Saturday night because Australia Day moves from the first Monday on or after January 26 to the date itself.

1989

Experienced and very popular guitarist Lindsay Butler establishes his LBS studios in Long Gully Road, Moonbi. With his wife Shaza Leigh, Lindsay developed a highly successful recording facility and in 2002 he also opened a studio at the Gold Coast. In 2004 Lindsay and Shaza moved their base back to a new studio complex in Goonoo Goonoo Road. Lindsay received an Order of Australia Medal in 2008 for services to the Australian country music industry.

June. Nick Erby starts the Country Tracks singles chart with a Countdown on Hoedown and in Capital News. Still going to today in Capital News and streamed on CMR.com.au until its closure in 2016.

The TSA Awards, known also as the Songwriters Salute Awards, first held at the Workmens Club, organised by Max Ellis Marketing, sponsored by Avis.

1991

The Australian Country Music Foundation or ACMF was initiated by Peter Burgis and Max Ellis and a local Board including Eric Scott and Warwick Bennet. Its prime objective was to establish an archive of Australian country music heritage. On January 28, 1994, ACMF moved into the historic Mechanics' Institute building in Brisbane Street, which had been refurbished by Tamworth City Council where it developed an impressive display of historic memorabilia (as the Australian Country Music Hall of Fame) and a comprehensive archive of artefacts and information. Peter Burgis (a National Sound Archive executive) was the first President, followed by Nick Erby in 1993. In 1996, Peter took over again until 1997 when Bob Kirchner became President, followed in 1999 by Kedron Taylor. Bob returned in 2004 and served until 2009 when Eric Scott became President. In 2015, ACMF moved from it's home in the Mechanics' Institute building in Brisbane Street in to the former Tourist Information Centre in Peel Street with the official opening of the new exhibition on January 16, 2016.

January. A statue of Buddy Willliams, organised by admirer Diane Morrison and sculpted by Gaye Porter in 1990, unveiled in Bicentennial Park next to the main entrance in Kable Avenue.

July 23. Tex Morton bust unveiled in Bicentennial Park at the foot of Fitzroy Street by a committee headed by Hilary Scott. The one and a half times life size bust was sculpted by Canberra artist Peter Latona who also created subsequent busts of Stan Coster (unveiled July 1999), Gordon Parsons (unveiled July 2003) and Barry Thornton (unveiled January 2008). Shirley Thoms was sculpted by Wayne Strickland (unveiled July 2011). Reg Lindsay (unveiled July 2013), Jimmy Little (unveiled January 2016) and Chad Morgan (unveiled July 2017) were sculpted by Kate French. All these busts have been organised and funded by the Tamworth Bust Committee under the direction of Lorraine Pfitzner.

Kevin Knapp retires from 2TM. Later, working as a volunteer for ACMF for many years before retiring again in April 2003.

November. 2TM announces the Awards concert and presentation of individual categories will take place at different venues. This was met with outrage from the country music industry.

November. Slim Dusty, Joy McKean, John Williamson Phil Matthews and Max Ellis formed the Country Music Association of Australia (CMAA), supported by a grant of $10,000 from APRA.

1992

January 26. CMAA holds Gala Concert at Showground. John Spence produced the show with 26 major artists on stage. Raises $40,000 for new organisation.

January 27. CMAA holds first AGM. Chairman Slim Dusty with John Williamson (Vice Chairman), Max Ellis (Secretary), Joy McKean (Treasurer), Phil Matthews (Public Officer) and 18 Steering Committee members... Ron Adsett, Lindsay Butler, Wally Bishop, Allan Caswell, Rod Coe, Brett Cottle, Nick Erby, Meryl Gross, John Kane, Tim Kirkland, Anne Kirkpatrick, Deniese Morrison, Norma Murphy, Dobe Newton, John McSweeney, John Spence and Brian Young.

April 4. Australian Country Music Spectacular State Theatre Sydney staged to help fund the CMAA. It starred Slim, John Williamson, Colin Buchanan, Anne Kirkpatrick, Melinda Schneider and Greg Champion.

June. After lengthy negotiations, 2TM generously hands over the Awards to the new CMAA industry organisation.

Max Ellis Marketing (Max Ellis, Kate Nugent, joined by Bob Kirchner in 1994) agrees to take over the running of a CMAA Secretariat and to organise and run the Golden Guitar Awards on a contract basis.

September. Nick & Jill Erby launch NfS (Not for Sale) which distributes single tracks compilation on CD to radio stations after vinyl singles disappeared in the late 1980s. Majors and independents used NfS. Acquired by Mike & Lee Smith in 1994 and then by Darryl Kirkup in 2011 who changed the name to CRS (Country Radio Singles). In July 2017, the service notched up number 200 despite the threat of downloads overtaking CDs.

1993

January 30. The first CMAA Awards staged in the Don Willis Rodeo Arena at Tamworth Showground, sponsored by Buttercup and other supporters and organised by Max Ellis Marketing for the CMAA.

May 29. "My Kinda Country" TV Show at 5pm Saturdays, launches on Prime Network with Lee Kernaghan as first guest and McDonalds as sponsor.

First annual CMAA "Winners" CD produced featuring Golden Guitar Awards finalists and winners; released by EMI.

1994

January. Toyota start their long sponsorship of the Awards. It ran until 2005 and was revived in 2014.

To counter criticism about the lack of live country music in Tamworth at times other than January, Tourism Tamworth, with the support of Tourism NSW and under the direction of Nick Erby, launched the big-budget monthly production called the Tamworth Country Theatre. When funding was rapidly exhausted, a group comprising Peter Greenaway, Barry Harley, Bob Kirchner, Kate Nugent and Mike Smith took it over with strong support from Tamworth RSL Club Manager Mike Mooney. It ran monthly on a Saturday evening until March 2002 and featured a long list of local and visiting acts including Troy Cassar-Daley, Slim Dusty, Jimmy Little and John Williamson.

1995

January 6. Radio 2TM sells to Bill Caralis' Broadcast Operations Group. Ag-Quip and the country music interests, including Capital News, Star Maker and Tamworth Festival Guide, sold to Rural Press Limited. Barry Harley (ex BAL Marketing, MEM and The Northern Daily Leader) appointed General Manager of Rural Press Events.

January 20. Country Music Heritage Hall opens in Bridge Street, West Tamworth. Eric Scott Chairman, Lorraine Pfitzner Secretary. The Heritage Hall and Australian Country Music Foundation amalgamated in 2003.

An Alcohol Free Zone declared in Peel Street during the Festival.

Australian Bush Laureate Awards started by Jim Haynes and Judith Hosier at the Longyard Hotel.

January 26. Opening by Gough Whitlam of Tamworth City Council's new Tourist Information Centre, designed by architect John Carr in the shape of a guitar and drum. In 2015, the Centre was vacated and passed onto the Australian Country Music Foundation for it's Hall of Fame and archive. The Tourist Information Centre was relocated to the Big Golden Guitar building at the Longyard.

1996

First use of Brian Sansom's accommodation tents from Gympie at Scully Park, West Tamworth, during the Festival.

A group of businesses starts to raise $800,000 to initiate the building of Tamworth Regional Entertainment Centre.

Max Ellis Marketing publishes the first Directory of Australian Country Music. In 2000 it was leased to Rural Press events.

1997

January 4. CMAA College of Country Music starts under direction of Peter Winkler at Calrossy College. Its development was underwritten by a grant of $20,000 for curriculum development by Tamworth TAFE.

1998

January. For the first time, Top 10 finalists announced for the Golden Guitar Awards by CMAA.

June 8. John Minson made a Member of the Order of Australia (AM) for services to country music.

September 19. Tamworth Regional Entertainment Centre (TREC, later to become TRECC, Tamworth Regional Entertainment & Conference Centre) opens with The Concert Of The Century organised by CMAA following a long and hard campaign for a major facility. Total cost was approx $6.5 million. State and Federal governments each contributed $1.25m. The Tamworth-based business group (Greg Maguire Chairman, Max Ellis Secretary Keith Singh, Graham Nuttall, Steve Carter, Michael McHugh, John O'Sullivan and Bryan Singh) which included CMAA and other country music interests, raised more than $800,000. Initially designed as a basic 5,000 seat air conditioned space, the building was given sound insulation in 1999 and tiered seating in 2000 making it a versatile multipurpose auditorium.

September 21. Well known and respected Northern Daily Leader Journalist and musician Mort Fisk dies.

December. CMAA online launches with country music news, Golden Guitar judges Top 10 Selections and finalists for the first time on www.countrymusic.asn.au (now www.country.com.au)

1999

First Carlton United name sponsorship of the Tamworth Festival.

January. First Australian Country Music Foundation Roll of Renown Concert staged in the Town Hall.

Independent Country Music Bulletin started by Dee & Cliff Giles. In 2005 the Bulletin was acquired by Bob & Leanne Kirchner who initiated the very popular countrymusicbulletin.com.au internet news website which attracts millions of hits and visitors a year.

June 14. Max Ellis awarded an Order of Australia Medal (OAM) for services to country music and to agriculture.

July. Stan Coster, sculpted by Peter Latona, unveiled in Bicentennial Park.

Singabout Australia (Jim Haynes) and Max Ellis Marketing join forces to run the Australian Bush Laureate Awards.

Through to 2008 (except 2000 and 2005). Country Music Train to Tamworth runs from Melbourne to Tamworth for the Festival. Organised by Arthur Smith.

2000

January. Galaxy of Stars established by Tamworth City (later Regional) Council in the courtyard of TREC, launched with Slim Dusty.

June. First Hats Off to Country Festival staged by CMAA as an important fundraiser, with a major tribute concert to Slim. The following year was a tribute to The Outback starring Lee Kernaghan. In later years, other Tamworth groups, including Tourism Tamworth, became involved. The CMAA pulled out in 2006 and Tourism Tamworth in 2009. The Tamworth Country Music Stakeholders Group took over the lead role from July 2012 and Council in 2016

Australian Bush Balladeers Association (ABBA) forms in Tamworth.

January 29. 6,275 Line Dancers set a World Record during the Tamworth Festival.

January 29. Country Music Radio, formerly Hoedown, dropped by Radio 2TM.

January. Lee Kernaghan stages a 12,000 strong concert in Brisbane Street to launch "Rules Of The Road" album.

August 21. Tamworth country music pioneer Geoff Brown dies aged 71.

September. Supervised by Max Ellis, the Roll of Renown moves from its original (1976) site at 2TM to the front of TREC.

2001

January 12. Walk A Country Mile interpretive centre, which tells the story of Australian country music, opens in the front area of TREC. In 1999, Tamworth City Council received a grant of $250,000 from the Federal Government for regional tourism. Max Ellis Marketing were awarded the contract and conceived, designed, constructed and named WACM (after Slim's famous song of the same name) for the Council. In 2004 Tourism Tamworth, which had taken over WACM from Council, moved the display to the Tourist Information Centre. The new facility was designed by Wintergreen Design though the content remained unchanged except for a few additional displays.

May. Tamworth named as one of the world's top 10 music festivals by the Melbourne Age.

January. Lorraine Pfitzner (pictured) publishes her first Country Cookbook.

CMAA Head Office under direction of Kate Nugent, returns to Tamworth after a brief absence in Sydney.

July 12. Camerata, a school for young CM artists, launched by Joan Douglas and Greg Williams.

October. Capital News changes format from tabloid newspaper to glossy magazine.

2002

January. Kasey Chambers stages her first free "thank you" concert on Number One Oval.

After 33 years, Eric & Hilary Scott's Hadley Studios ceases operations.

March. Tamworth's Country Theatre live show closes after six years.

Bob Kirchner becomes President of ACMF.

March. "A Little Bit Of Country" – a TV show from Tamworth – airs on the Prime Network.

2003

January. First Telstra sponsorship of the Tamworth Festival.

September 15. The CMAA Achiever Awards pay tribute to Smoky & Dot Dawson with a red flowering gum tree planted beside the Tourist Information Centre in 2005 in their memory.

September. Bob & Leanne Kirchner take over the Independent Country Music Bulletin from Cliff & Dee Giles; in line with changing dynamics of the music business.

July. Gordon Parsons bust unveiled. Sculptor Peter Latona.

September. Australian Country Music Foundation and The Heritage Hall amalgamate.

2004

Rural Press Events inaugurates the Toyota Country Theatre promotion in January at TREC. RPE's leasing arrangement was abruptly terminated by Tamworth City Council in September 2009 following Council's appointment of the Sydney-based Peer Group as consultants.

February 26. Official opening of the updated "Walk A Country Mile" in the Tourist Information Centre with Joy McKean and Cath Morton.

Lindsay Butler (pictured here with Shaza Leigh) opens his new LBS studio in Goonoo Goonoo Road.

May. Tamworth's special line dancing festival, Mayworth, launched by Chris Watson.

Kate Nugent resigns as CMAA CEO, Cheryl Hayes appointed General Manager.

2005

January. Disastrous move of the Festival from it's normal "last full week of January" slot to a week earlier. The situation compounded by the moving of the Awards by the then CMAA Board, to the first weekend of the Festival (January 15). With little notice given of the changes, crowds plummeted and many shows and enterprises, including the annual Smith's Festival train from Geelong, cancelled causing significant revenue losses for many Festival participants.

After producing Australian country music since 1961, the production rights to most of the Hadley records catalogue are sold. The new owners of the recordings previously released under the Hadley Records label were Bellbird Music from Brisbane owned by Ron & Rosie Adsett, Meryl Davis and Nick Erby.

April historyofcountrymusic.com.au website started by Max Ellis.

July. Australian Country Music Foundation announces plans for Hall of Fame.

www.countrymusicbulletin.com.au national country music news site launched by Bob & Leanne Kirchner.

2006

April. Deniese Morrison launches Stagecoach, her performance tuition college.

December. Fairfax Media announces the takeover of Rural Press including Rural Press Events country music assets such as the Official Festival Guide, Star Maker and Capital News.

2007

January. ABC Music FanFest promotion and concert discontinued.

Tamworth group, Those Gals reach finals of "Australia's Got Talent".

The Big Golden Guitar appears on stamps in the "Big Things" series.

Tamworth Country Music Festival wins the NSW Inland Tourism Award.

May 8. The merger between Rural Press Limited (owners of Capital News, Star Maker and many other country music activities) and Fairfax Media completed. The new entity known as Rural Press Events continued to operate under the direction of Barry Haley until 2015 when the name was changed to Fairfax Rural Events and Kate Nugent took over from Barry.

"T for Tamworth" – a compilation CD of songs about Tamworth – produced by Max Ellis.

June. Tamworth appears on the Australian Monopoly Board.

2008

January 21. Barry Thornton bust, by sculptor Peter Latona, unveiled in Bicentennial Park.

January 26. Lindsay Butler awarded an Order of Australia Medal (OAM) for services to country music.

2009

Steve Newton moves his recording studio Enrec back to Tamworth after an absence of 16 years, taking over the studio building in Calala which housed Hadley.

On the basis of a grant from NSW Events to keep the Awards afloat, Council sets up the Festival Working Committee to produce a blueprint for the event with representatives from CMAA, Tourism Tamworth, Tourism NSW and Council but no community or industry representatives. Sydney consultants, the Peer Group to advise. Aim of Committee is stated as "corporatisation" of the Festival to generate funds for Council and Tourism Tamworth.

September. Rural Press Events dumped without reason by Council from staging Toyota Country Theatre in TREC.

October. Council launches the new Festival concepts in the Town Hall on unsuspecting stakeholders who are aghast at some of the ill-informed proposals, particularly those emanating from the Peer Group.

October 30. Launch of the Smoky Dawson Memorial Appeal raising funds for a statue of Smoky with committee Mary Chapman (chairman), Max Ellis, Bob Kirchner, Deniese Morrison and Lance Smith.

December. Furore erupts over a concert in TREC starring Guy Sebastion. Many country artists are affronted that a non-country act should be headlining a major show in the major Festival venue on a peak night (Wednesday) of the Festival. Eric Scott and others lead a vigorous email campaign against damaging the Festival's core music image. (Guy Sebastian since becoming "a darling" of Tamworth and even looking at making a country album!)

December 3. After widespread concern over the direction Council and Tourism Tamworth were taking, concerned individuals (representing Tamworth media, hospitality, artists, hoteliers, moteliers and so on) hold the first Festival Stakeholders meeting. First chairman Max Ellis.

2010

January. Troy Cassar-Daley wins eight Golden Guitars beating Sara Storer's record in 2004 of seven wins in one night.

Tamworth Camerata becomes the junior course of the Australian Academy of Country Music and is staged prior to Hats Off in July.

September. Col Murray takes over from James Treloar as Mayor of Tamworth.

October. New Mayor Col invites Festival Stakeholders representatives on to Festival Working Committee.

Photo: Col Murray pictured with Rural Press Events' Dianna Lockwood.

2011

January. Festival attendance down due to floods in Queensland and confusion over content and direction.

January 22. CMAA Awards marred when Lee Kernaghan is given a Golden Guitar destined for Graeme Connors. After first being denied by CMAA officals, the error was not corrected until the next day.

March. Cheryl Brynes (Brown) receives American CMA Award for promotion of country music in Australia. Photo: American CM broadcaster Storme Warren, US country star Joe Nichols, Cheryl and CMA Board Member Rob Potts.

Country Collection wax museum sold to Tom Coulton. Gem and Mineral collection moved to Nundle.

March. Council approves Smoky Dawson statue site outside Ray Walsh House (Council headquarters) in Peel Street.

April 12. Keith Urban performs at TRECC. Tamworth celebrates with "Urbenville" in the Peel Street.

May 11. New President, Steve Newton, elected to Capital Country Music Association (CCMA) after fears were expressed that the organisation might disappear.

May. Peter Greenaway appointed first Interim Festival Co-ordinator. Control of Festival affairs returns to Tamworth Regional Council under new Community Enterprise Director Paul Sullivan.

July 8. Shirley Thoms bust unveiled. Sculpted by Wayne Strickland.

August. CMAA CEO Cheryl Hayes resigns over the Awards debacle.

2012

January. Tamworth celebrates its 40th Country Music Festival; major celebration staged in Tamworth Town Hall.

January. Rural Press Events releases Max Ellis' book about the history of the Festival, "Stars, Hurrahs and Golden Guitars" (SHAGG).

June 17. Talented and admired Tamworth guitarist Gary Brown dies aged only in his mid 50s. Gary was the son of Geoff and Beryl Brown and brother of Cheryl Byrnes-Brown.

The Festival Stakeholders Group becomes involved in Hats Off To Country.

July 27. Early Country Music Capital pioneer Brian Kelly, who worked at 2TM and NEN9, dies on the Gold Coast.

Nick Erby moves to the Gold Coast after years of involvement in the Festival and country music radio incuding stints at 2VM, 2KM, 2UE (1970 to 1975), 2CC )1975 to 1981), 3UZ (1985 to 1986), 2TM (1987 to 2008 [with a break in Brisbane at 4AAA]).

March. The Slim & Joy Statue Appeal launched at the Tamworth Regional Council. Committee John Sommerlad (chairman), Max Ellis, Bob Kirchner, Col Murray, Kate Nugent, John O'Sullivan, Lorraine Pfitzner and Mary Ryan-Garnett.

2013

January. Council changes the arrangement for buskers, demanding a taped audition and incurs the wrath of all concerned. Reversed the following year.

January. Tamworth Regional Council initiates the Fan Zone promotion in Fitzroy Street. Council leases the old Post Office as their Festival Headquarters in Peel Street with the stage adjacent in Fitzroy Street.

June 10. Bob Kirchner awarded an Order of Australia Medal (OAM) for service to the community, including country music and Toastmasters.

July 7. Reg Lindsay bust unveiled, sculpted by Kate French.

April. John Sommerlad becomes Tamworth Regional Council's Director of Business and Events with responsibility for the Festival.

2014

January 24. The Slim Dusty / Joy McKean statue unveiled in Peel Street by John Williamson and NSW Premier Barry O'Farrell. The statue erected in the centre of Tamworth's CBD (beside the pedestrian crossing adjacent to Best & Less) in Peel Street at a cost of around $182,000.

Peter Harkins sells Cheapa Music to Dave Alexander. The business closes mid 2017.

July. Australian Country Music Foundation moves out of the Mechanics' Institute building in Brisbane Street and into the former Tourist Information (guitar shaped) building at the corner of Peel Street and Murray Streets. The Tourist Information Centre moves into the front of the Country Collection Wax Museum and Big Golden Guitar at the Longyard. The ACMF reopens to the public mid 2015.

October 27. Pioneer guitarist, songwriter and broadcaster Pat Ware dies aged 81. In the early '50s, Pat discovered Jimmy Little and played guitar in the Jimmy Little Trio. He was also a prolific songwriter and country music historian.

He came to Tamworth in the 1960s with wife Joy and family and appeared on Hoedown presenting Pat Ware's Country Corner for many years. Pat is pictured at right in his early days playing with Jimmy.

2015

January 24. First Back To The Bush Show staged in Bicentennial Park, organised by Peter Simpson and Dianne Lindsay, is a great success.

January. Council allows Brisbane Street to remain open for traffic during the Festival. Despite rumblings from fans and lower Peel Street shops, it is declared a "traffic success" by the Mayor. Council moves to open the Peel Street block between Bourke and Brisbane Street to traffic but a group of traders successfully lobbied Council for it to remain closed during the Festival.

January 21. A Golden Guitar presented by Tamworth Regional Council at a private function to the Mayor of Nashville, Karl Dean, causes a strong negative reaction from the country music industry.

January. The Country Music Awards presentation staged by Peter Ross and Barry Harley on behalf of the Tamworth Council and the CMAA, which still ran the judging process.

February 12. Barry Harley, General Manager of Fairfax Rural Events, joins Tamworth Regional Council as their Country Music Manager. Kate Nugent (pictured at right at one of FRE's other major events the giant AgQuip field days at Gunnedah) takes over as the new GM of Fairfax Rural Events.

February 18. Max Ellis takes over as interim Chairman of the Tamworth Country Music Festival Stakeholders Group. Executive includes Rebecca Belt, Tim Coates, Peter Greenaway, Barry Harley, Bob Kirchner, John Krsulja, Steve Newton, Kate Nugent, Craig Power, Damian Sheridan, Marjolyn Thomas and Chris Watson.

ACMF completes the move its new home in the former Tourist Information Centre, opening to the public on July 8. Official Opening on January 16, 2016. Lindsay Butler and Dianne Lindsay cut the ribbon and Mayor Col Murray officially hands over the keys to the building.

September 30. First Tamworth Country Connect luncheon meeting staged... an activity for Tamworth country music industry people, set up by Council's Barry Harley and the Tamworth Stakeholders Group to bring local participants together and keep them informed about the Festival. Some 50 people attended the first gathering at Hog's Breath and official guest, artist manager Dan Biddle talked about why he had moved to Tamworth.

2016

January 15. Jimmy Little bust unveiled by Cyril Green in the park.

January 23. The Capital Country Music Association (CCMA) stages the 50th National Talent Quest & Jamboree. The first January CCMA Jamboree was held in 1967.

January 23. The Roll of Renown presentation returns to the stage of the Country Music Awards. Started by 2TM in 1976, the RoR was given to the ACMF in 1996 who acted as custodians until they passed it on to Council in 2015. An independent selection panel of industry people, chaired initially by Max Ellis, now handles the RoR for TRC. The first inductee under the new arrangement, Graeme Connors. Photo: Graeme and wife Lyn at the Roll of Renown in Tamworth.

April 19. Singer/songwriter Karl Broadie dies after a short illness. Well known in Tamworth through the Academy of Country Music and other activities, he had recently moved with his family, to Nundle.

May 15. Brian Young, aged 80, dies in a Tamworth nursing home after a long illness.

July 6. Tamworth Regional Council launches Balcony TV, an international daily online music show that features bands, musicians and other acts on "balconies" around the world. Host of the launch show from Tamworth was local artist Aleyce Simmonds.

July 25. The Tamworth Country Music Festival awarded Silver at the Inland NSW Regional Tourism Awards event in Echuca-Moama in the Festival & Events category.

August 19. Amber Lawrence and Adam Brand announced as Tamworth Country Music Festival Ambassadors for 2017.

2017

January 1. Capital Country Radio – www.capitalcountryradio.com – starts online. Owned and operated by Country Music Capital veterans Bob & Leanne Kirchner who also run the Country Music Bulletin news website and People's Choice Awards, the online station presents a program including classic tracks from years gone by as well as new music. It boasts "Nothing but great Australian country, all day every day".

January 27. Smoky and Dot Dawson's family hand over 11 original paintings by Broken Hill Artist Pro Hart. The works of art (with capitions by Max Ellis) were painted to illustrate Smoky's autobiography "My Life" published in 1985. Judy Lipman, Dot's niece, handed the paintings over to Tamworth Gallery Director Bridget Guthrie and Mayor Col Murray.

January 24. Troy Cassar-Daley unveils the Picasso Guitar sculpture at Bicetennial Park. The five metre high, all steel sculpture was created by Tamworth sculptor Peter Hooper with inspiration from Picasso.

January 28. Jim Haynes performs his last breakfast show in Tamworth after some 32 continuous years.

January 28. Nundle Musician John Kruslja wins a Golden Guitar for his Heritage Song of the Year "Old Man's Shed", performed by Luke O'Shea.

January 28. Governor-General Sir Peter Cosgrove visits Tamworth Festival and presents at the Awards. The last, to date, of a long line of special guests including Doug Anthony, Dame Marie Bashir (Governor of NSW), Russell Crowe, Roger Miller, Charlie Perkins, Charley Pride, Jeanne Pruett, Neville Wran and Trisha Yearwood.

March 10. John Minson dies in Coffs Habour after a long illness. He was 89. Born in Sydney, John and wife Ann came to Tamworth in 1961 taking over Ken McEwan's CM program on 2TM in 1965. He retired in 1987 and moved to Coffs in 2001. Received the Roll of Renown in 1988 and an AM for Services to Music in 1989. His funeral was held on March 21 in Tamworth and he was buried at the Tamworth Cemetery.

March 20. Tamworth Regional Council announces the purchase of Australian Community Media (Fairfax Media) assets including the Tamworth Country Music Festival Official Guide (the annual magazine, website and app), the monthly Country Music Capital News magazine, Toyota Star Maker, Coca-Cola Country and Festival FM Radio. Most of these assets were originally a part of the 2TM Country Music stable which, in 1995, was sold to Rural Press which in turn was taken over by Fairfax in December 2006. Rural Press Events and Fairfax Rural Events were run by Barry Harley (pictured), but he moved to become TRC's Country Music Manager in 2015. His role at Fairfax was filled by Kate Nugent. Cheryl Byrnes (Brown), long time country music specialist at RPE, moves to Council.

June 10. Bronze Bust of Chad Morgan unveiled at Bicentennial Park. Chad is the first living legend to be honoured with a Bronze Bust.

June 13. Lorraine Pfitzner awarded an Order of Australia Medal (OAM) for services to country music.

Yeldah Music Closes. Yeldah (Hadley backwards ) was Eric and Hilary Scott's publishing company. From when it started in 1962, Yeldah published some 650 songs including many from well known artists like Slim Newton, Rex Dallas and Jean Stafford.

August. Long time Tamworth music store Cheapa Music closes down.

October. Lorraine Pfitzner returns to local airwaves with a weekly program on Tamworth based Capital Country Radio.

December. Tamworth Regional Council moves the eight Country Music Bronze Busts into a new "Avenue of Honour" at the Kable Avenue entrance to Bicentennial Park, as a part of the Fitzroy Street beautification.