The story of Australia's original country music magazine
The famous Radio Ranch was started by radio station 2LM in Lismore on the Northern NSW coast, to capture a market that was, in the early '50s, large by any standard. Country & western, hillbilly or cowboy music was popular on the north coast of NSW and travelling shows eagerly looked forward to playing Lismore because of its enthusiastic audiences and sell out seasons.
The 2LM Radio Ranch was started by Phillip Charley and Dick McLaren. It was a Saturday morning show which ran from 9.30 to 10.30am and gave would be singers the chance to perform live on radio. The station would be full to overflowing with people wearing cowboy hats, jodhpurs and other regalia which made them feel like cowboy or cowgirl stars.
Dick McLaren was called "Trigger" and Phil, "Moose". Other stars were Geoff Ryan who was "Uncle Zeke". Later Tom Crozier joined the team and was given the name "Buck Hawkins" while Strat "Cactus" Ward and Kevin "Hotfoot" Knapp (Kevin later played a big part in helping to establish Tamworth as Country Music Capital) were "Ranch Hands" in later years.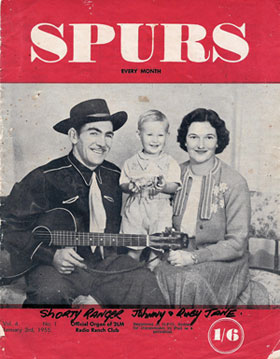 "Spurs" made its first appearance in May 1952. It contained a letter from Slim Dusty welcoming the magazine, a letter to "Uncle Zeke" from his horse "Gus", a Hillbilly Horoscope for Shirley Thoms, an article on playing the steel guitar, jokes and even some "Farming Facts".
The three monthly subscription was just 4/6 (four shillings and six pence) post free!
It was a great success and before too long the cover started carrying the famous red and white banner with a black and white photo of a star. The first picture was of the Dusty family and that issue was a sell out!
As Spurs grew and the Radio Ranch Club expanded, station staff started organising concerts with visiting artists. They booked country halls and used the magazine and radio program to publicise the shows and it worked. The shows were a sell out.
By the mid '50s, the original Ranch Hands had moved on.
In 1956, Spurs Magazine was sold to Slim Dusty and Joy McKean.
They moved Spurs production to Sydney. Joy and Heather McKean were involved in running the magazine but as they were both on the road for much of the time, Mrs Millie McKean, Joy and Heather's mother, took charge, and ran it successfully until it closed in the early '60s.
Photo: the January, 1955, issue with Shorty, Ruby and Johnny Ranger on the cover. Click on the photo for a larger image.
This story has been compiled from information supplied by Tom Crozier, Heather McKean and Kevin Knapp. We thank them for their assistance.
Max Ellis, 2005.