The Story of Australian Country Music
– Slim, Chronicler of the Bush
A Tribute to The McKean Sisters
Arch Kerr – pioneer record producer
Australia's College of Country Music
Brief History of the Golden Guitar Awards
Country Music Capital Meets Music City
FIRST THE SONG
History of the College of Country Music
How Tamworth became Country Music Capital
How the College of Country Music Works
Narrative! Narrative! Narrative!
Origins of the Tamworth Country Music Festival
For more information
Contact: Max Ellis
Email info@historyofcountrymusic.com.au
Disclaimer
All matters relating to the conduct of this site remain under the total control of Max Ellis or his nominees who will endeavour to ensure the accuracy and balance of the content and proper conduct of the site but, subject to legal requirements, cannot be held responsible for any digression or non-compliance in respect of these matters.
First The Song
The birth of the Tamworth Songwriters' Association (TSA)
By Max Ellis
In 1977, Tamworth's Country Music Capital promotion was beginning to pick up steam. It was a home grown promotion but there were those among the small group at 2TM who felt we might benefit from a look at what was happening in that international mecca for country music… Nashville, Tennessee.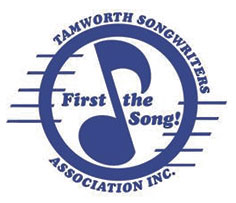 So it was that John Minson and I set off on our "investigative" trip in June 1977, and what a worthwhile experience it turned out to be. One of the highlights was attending the Nashville Songwriters Awards to which we were invited by publisher and composer Marijohn Wilkin. It was a real eye opener.
Among the many things that impressed us was the way American songwriters promoted their craft. Unlike Australia where singer/songwriters seemed the norm, in America there was a large group of specialist and dedicated composers who just wrote songs and left the performance to others. It seemed to us that this abundance of focussed professional songwriters was one reason why American country music was producing such an endless stream of huge country hits for the world market.
To say we were impressed was an understatement. We knew that this was one lesson we had to take on board. Songwriters had to be given equal billing if our industry was to expand and develop.
We talked a lot about how we could encourage this. It influenced our heavy emphasis on songwriting in the Golden Guitar Awards. But the main effect was our decision to set up the Tamworth Songwriters' Association (TSA).
This occurred at an open meeting on 28th January 1978 in the Tamworth Adult Education Centre, now the Australian Country Music Hall of Fame in Brisbane Street.
Johnny Ashcroft was elected first President, I became Vice-President, Brian Kelly Secretary, Pat Ware Treasurer and the first committee consisted of Joy McKean, Diane Hawking, Nev Nicholls, Eric Watson, Coral Dasey, Ian Betteridge and Rocky Page. Others in attendance included Heather McKean, Glenda Callaghan (APRA), Les Wilson, Tim McNamara, Smoky Dawson, Stan Coster, Shorty Ranger, Pete Skoglund, Mike Hayes, Max Richards, Buddy Williams, Joan Martin, Johnny Mac, Nick Erby, George Dasey and many others, an impressive roll up of influential country composers and industry figures.
As convenors, 2TM undertook to run the fledgling organisation until it could stand on its own feet. The Australasian Performing Right Association (APRA) was directly involved in the formation of the association through then Secretary Glenda Callaghan and continues to strongly support and assist the TSA to this day.
Songwriter George Dasey came up with the superb slogan which so brilliantly and succinctly states the principle behind the organisation… First The Song… as well as the concept for the striking logo which was later massaged into its present form by none other than Barry Harley, the creative genius who has been responsible for so many of Australian country music's visual images over the past 30 years.
Eric Watson took over as President in 1979 and, by the 1980s, the TSA was powering ahead, running its own organisation and building a big membership. The Songmaker tributes were inaugurated in 1982 with a presentation to Stan Coster of a special plaque mounted on a "Folio of Fame" at Southgate Shopping Centre. This was moved in 1994 to the Tamworth Visitor Information Centre.
Branches were started in several areas including Lachlan (NSW), North Queensland, Victoria and South East Queensland, but with changing times, TSA now has, apart from the national body itself, one remaining branch based in South East Qld (Brisbane).
The TSA Songwriters' Salute Awards were initiated on 21st January, 1987, in the Tamworth Workmen's Club, organised and staged for the Association by Max Ellis Marketing with Eric Bogle taking out the first Tex Morton Award in 1988.
Over the years, the TSA developed a dedicated and hard working executive with people like Eric Watson (President 1979-87), Deniese McIntyre (President 1987-91), Allan Caswell (President 1992) John Martin (President 1993), Coral Dasey (Secretary 1979-85), Bob Kirchner (Treasurer 1979-84), Anna Rose, Lyn Carey, Don Morrison, Vicki Walsh, Wendy Wood, Shaza Leigh, Greg Williams and many others too numerous to mention, taking responsibility for the growth of the organisation. *
The story would not be complete without mention of Bev and Ron Daniel who, in 1987 moved from Bundaberg in Queensland to Tamworth and were invited to join the TSA committee by Eric Watson. Both Bev and Ron were elected to the committee and worked on a voluntary basis with TSA for more than two decades. Among their many achievements, they organised the first TSA National Country Songwriting Contest not long after joining the committee of TSA. In 199,8 they organised the first TSA Song Search competition and, over the years, the untiring duo ran the prestigious TSA Songwriters' Concert and Awards presentations, Songwriters' Workshops, Pass the Guitar Nights, Songwriters' Showcases and countless other events. Ron even makes the distinctive Awards trophies out of cedar each year.
After holding many positions, Bev became President in January 1994 and Ron became Vice-President in January 1995, positions they filled until 2008.
In 2008, after 20 years managing the organisation, Bev and Ron decided they needed to take some time away from TSA to concentrate on running their own management rights business on the Gold Coast and to spend more time with family. The TSA acknowledges the incredible debt owed to Bev and Ron Daniel for all they have done for Australian songwriters and the TSA and recognises just how difficult it will be to replace this outstanding team.
How many songwriters do you think have been inspired by the Tamworth Songwriters' Association during its 30 year history?
The TSA can be truly proud of its achievements in helping Australian country music songwriters reach the levels of excellence we take for granted today.
"First the Song" has never been truer. All who love Australian country music should salute the Tamworth Songwriters' Association.
First published Rural Press Events in Tamworth Festival Guide January 2008.
* The current President of TSA is Duncan Hill and you can get more info at www.tsaonline.com.au