The Story of Australian Country Music
– Slim, Chronicler of the Bush
A Tribute to The McKean Sisters
Arch Kerr – pioneer record producer
Australia's College of Country Music
Brief History of the Golden Guitar Awards
Country Music Capital Meets Music City
History of the College of Country Music
How Tamworth became Country Music Capital
How the College of Country Music Works
Narrative! Narrative! Narrative!
Origins of the Tamworth Country Music Festival
What is this thing called Australian Country Music
For more information
Contact: Max Ellis
Email info@historyofcountrymusic.com.au
Disclaimer
All matters relating to the conduct of this site remain under the total control of Max Ellis or his nominees who will endeavour to ensure the accuracy and balance of the content and proper conduct of the site but, subject to legal requirements, cannot be held responsible for any digression or non-compliance in respect of these matters.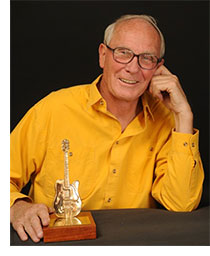 Over the years, there has been a constant questioning about how to define Country Music. Like most big questions, there is no simple answer.
Here, marketing man Max Ellis, one of the founders of the Tamworth Festival and an active and leading participant in the industry for more than 40 years, ponders on what he believes gives Country Music its' unique and powerful identity and how we should using this to expand its market.
What is this thing called Australian Country Music?
How listeners identify with a piece of music is all about it's context. For example, no-one would accept an orchestral arrangement of a Beatles song as Rock and Roll. What identifies country music is it's context.
Over the years there has been a constant questioning about how to define Country Music. Like most big questions there is no simple answer.
Authentic Australian Country Music as a genre has been around for some eight decades now, not quite as long as its immediate precursor, American Country & Western or our own Australian ancestors, the colonial folk singers and bush balladeers, but still a period of time and popularity which has enabled it to develop a significant, cultural and commercial identity.
But after all this time, people are still arguing about what exactly defines or identifies Country Music. As the genre has grown, there have been many attempts at a clear definition. Personally, I think it's doubtful if there can ever be any precise definition because Country Music is not about any single defining element. It is an amalgam or package of constantly changing and often-subtle elements, a context, which coalesces to produce the genre.
Perhaps this overall approach can best be understood by the adage "Country is not where you live but how you live". Similarly Country Music is not just the sounds you hear but also the context in which it is heard.
Let me explain. From its beginnings, rather than just being a collection of songs or performances, Country Music has immersed itself in a comprehensive and powerful package of symbols, traditions, attitudes, beliefs, images and experiences which, collectively, have created a strong sense of identity amongst its followers. It is this comprehensive identity, built around a core of specific musical tradition, that binds country music followers together and provides the commercial and social foundation for its existence.
It's this broad country framework rather than any sort of musical boundaries that allow so many different styles of music to flourish under the country umbrella. If artists are accepting of the country music environment and conform to some of its identifying elements, they can generally move under the umbrella. Thus Country Music embraces artists as musically different as Eric Bogle and Lee Kernaghan or Reg Poole and The Wolverines, or The Davidson Brothers and Adam Eckersley Band. They may seem to be worlds apart musically, but they are united by tradition and outlook. Most performers, of course, fall into the middle ground where there is a closer conformity to current musical and lyric styles as well.
Over the decades, this jigsaw of identifying elements has grown and evolved into an easily recognised whole which we accept as today's Country music. Incidentally, it's a pattern that appeals by and large to that growing demographic, the more mature over 35 audiences who place content and context, over volume and beat.

So, what are these elements that have branded "Country Music" so successfully? Of course since Australian country music became an identifiable genre in the early '30s, it has evolved significantly, reflecting the changes in the society of which it is an integral part.
Firstly, and perhaps most importantly for us in Australia, the lyrics have changed dramatically. In the 1930s they became Australian, creating a powerful identifier of our country music. Like American C&W they were still mostly based on narratives about rural themes such as events, places and people but now they reflected the values and attitudes of Australian country life. Indeed, then as now, most Australian Country singers came from the country.
At its heart is the music. This too has evolved with the times, expanding its horizons and reflecting changes that over the past 50 years have transformed the popular music scene. Distinctive musical styles evolved over the years with many recognisable instrumental and vocal identities becoming prominent (e.g. Barry Thornton's lead guitar style in the '50s). However most of it is still broadly based on the original, guitar based melody with recognisable chord progressions and traditional instrumentation such as bass, fiddles, harmonicas and banjos. That said, as amplification and recording technology exploded, backing bands were introduced and expanded and instrumentation broadened. Electric guitars and drums were universally adopted in the '50s and '60s while electric keyboards and even double bass and brass appeared regularly on country music stages. In the '50s, pedal steel moved in from Hawaii and its distinctive sound became an integral part of C&W before fading in the '90s.
But as each innovation appeared, they have remained linked to the sounds and traditions of the days when Country was shaped.
And while most lyrics are still in narrative form, they have become more contemporary, reflecting modern mores and attitudes to relationships and current events. Many of the songs sung by, for example, Lee, Kasey or Troy, will generally still contain obvious musical and lyric connections to Tex or Buddy or Slim.
But while modern country music still generally includes traditional musical styles and narrative lyrics it also embraces other significant elements. An obvious manifestation is clothing which, as time goes by, has been modified to fit our national aspirations.
Firstly though, it has to reflect the broad foundations of the music. Imagine how Troy Cassar-Daley would be received if he appeared in a three piece suit or a garish ABBA style outfit. His carefully casual, outdoor type jeans or moleskins, boots and modestly decorated shirts are all about the image country music has built for itself in Australia.
R.M. Williams and Akubras have edged out the elaborate American cowboy sequins and Stetsons. Elastic sided boots are more common than Cuban heels and snakeskin Tony Lama's.
Perhaps even deeper embedded are the intangible but universal accepted images of Country Music. These include a pride in our land, close family values reflected in the involvement of several generations, mateship, independence, the touring tradition, intense fan loyalty, the maturity of successful artists, integrity, toughness, a laid back approach to life, resourcefulness, approachability, "a what you see is what you get" humbleness, and a genuine "family of country music" feeling. Many of these attitudes, embraced with a genuine passion, are a constant marker of Australian country music life.
Another very important facet is the national perception that, despite our overwhelming urbanisation, country life symbolises our Australianness. Much of the opening and closing ceremonies of our most famous international showcase, the 2000 Olympic Games, was based on "country" activities and culture and even Kevin Rudd wore a bushman's R. M. Williams elastic sided riding boots on his overseas jaunts!
Generally these are the same characteristics that are embodied in Australia's perception of Slim Dusty and are, undoubtedly, the reason that Slim as a person, quite apart from his wonderful music, is still so widely revered.
Indeed, most people accept that they are some of the very same elements that spell out what being Australian is all about. So no wonder there is a strong streak of national pride evident in so much Australian Country Music.
Are these traditional values, codified in Australian country music in the middle of the last century, permanent features of our society? Or will they too change as society, technology, populations and attitudes change? For example, consider this. Australia's population has increased from around 6.8 million when Tex first recorded Country Music in 1936 to 24 million today.* Some 6.6 million permanent migrants have made Australia home since then and more than 28 percent of our population is overseas born, creating many opportunities but also a constant challenge for Country Music to maintain it's 36 percent "Enjoy Listening to Country Music"** rating among the growing number of adult Australians. Similarly, the other elements are changing, too, but, perhaps partly because of the constant change, we seek a familiar cultural foundation to our lives. I believe that most elements of the Country Music jigsaw still reflect a perceived way of life that is just as relevant and appealing as when they were shaped.
This leads into another very important aspect in branding Country Music. It is embedded in the name. These days "Country" is a powerful code word for many of the tangible and intangible aspects of modern life that so many people aspire to. "Country" is a word that has many positive meanings.
To quote Advertising Executive Myra Stark ***, Country… represents simplicity, purity and authenticity, a quality of life made up of relationships and roost; it conveys warmth and friendliness. These are all qualities that consumers in these pressured and uncertain times value and that are all the more powerful because they represent our yearnings, not the reality of our lives.
This US definition of Country life style is still obviously relevant to Australian Country Music today. Despite some current political negativity, which suggests country people are disadvantaged, there is an overwhelming perception throughout our highly urbanised society, that anything to do with Country, in lifestyle terms, is positive. Just look at the magazine stands or TV life style programs!
In Australia over recent years we have seen the word "country" assume yet another shade of meaning. Aboriginal people use the word to recognise and describe their spiritual and tangible association with the land in which they have lived for tens of thousands of years. It's a concept, which in many ways sits comfortably with the country of Country (& Western) Music.
Although having it's distant roots in British/Irish folk music and the American mid-west, Country music has been adopted (one could almost say assimilated) by Aboriginal people. Constant touring in remote areas by many artists combined with the very relevant content and character of country music has created a strong mutual respect between Country Music and Aboriginal people. Similarly, over the years, Aboriginal artists have had a huge involvement in mainstream Australian Country Music and have made, and continue to make, a very significant contribution to the genre.
So to summarise, it's obvious that Australian Country Music as a genre is deeper and more meaningful by far than just a few notes and words on a piece of paper or a computer screen. Instead it is a complex amalgam of many different elements together forming a tangible and emotional infrastructure orbiting around a core musical and lyrical tradition. It reflects, represents and encourages a broad set of traditional Australian cultural values and customs and while some may be based on perception rather than reality they are no less important for that.
History is where we are coming from and our great artists and writers of today understand this well, either in an instinctive way or sometimes very consciously. While aiming above all for artistic excellence and commercial success, they have grasped the opportunities offered by social and technological change, continually shaping their output to reflect modern life while still acknowledging the past.
Today's Australian Country Music is still broadly based on the same traditional elements which established the meaning and identity of Australian Country Music in the last century. While few songs, performances, fans or artists embody all these elements, collectively they contribute to creating a coherent and easily recognisable image or identity for the genre as it grows and evolves.
It is this coherent identity and strong continuity which makes the genre meaningful to its followers. It is this past, which underpins the future.
We need a positive and confident attitude about Country Music if we are to maintain its core following and actively expand its market horizons out into our nation's rapidly growing and culturally diverse population. The launching pad for this campaign forward must be based on an informed understanding and passionate celebration of Australian Country Music's unique, multi-faceted character and the rich and colourful heritage it contributes to the Australian ethos.
*Australian Parliamentary Library: Migration to Australia since federation: a guide to the statistics .
•• Country Music Association of Australia National Survey September 1999 conducted by Castle Research through AMR:Quantum Harris.
*** Dreaming Country Strategic Planning Saatchi & Saatchi , New York
First published in Country Music Capital News, June 2011.